Protests Erupt In Haiti Over Controversial Dominican Court Ruling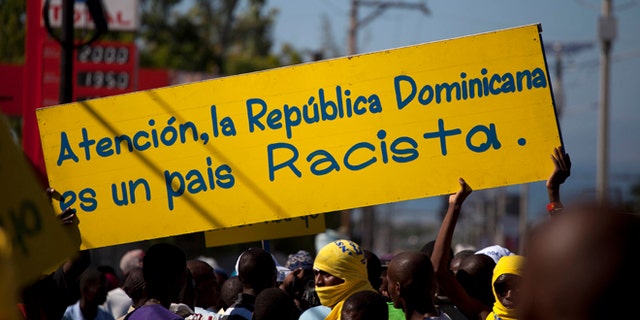 PORT-AU-PRINCE, Haiti (AP) – Hundreds of protesters gathered Friday to criticize a recent court decision in the Dominican Republic that could strip the citizenship of generations of people of Haitian descent living in the neighboring country.
The crowd peaked at about 2,000 people but thinned out during the march uphill to the Dominican Embassy to protest the decision passed two months ago by that country's court. The demonstrators urged people to boycott travel to the Dominican Republic.
Riot police set up metal barricades on a major thoroughfare that block protesters from reaching the district where the diplomatic mission is located.
The ruling has been met with sharp objection, from Caribbean leaders to the United Nations. On Friday, the Inter-American Commission on Human Rights became the latest international entity to oppose the court decision, calling on the Dominican government to take urgent measures to guarantee the rights of those people affected.
Advocacy groups estimate 200,000 people, many of them of Haitian descent, could lose their Dominican citizenship because of the court ruling. Dominican officials say only about 24,000 would be affected.
Haitian officials have said little about the matter. President Michel Martelly has called it a "Dominican issue" and Prime Minister Laurent Lamothe posted on Facebook that a lot "is being done to solve the problem."
The lack of a robust response from the Haitian government was cited as one reason for the protest, which started out to oppose the Dominican court ruling, then turned into an anti-government demonstration. Protesters carried a white wooden coffin spray-painted with the slogan "Down with Martelly," then later burned it.
Friday's march is the latest of recent protests in Haiti, many of them critical of Martelly's government. A few have turned violent, with anti-government demonstrators last week burning tires outside the U.S. Embassy as they pressed for the departure of Martelly, accusing the U.S. of interfering in Haiti's domestic politics.
Haiti and the Dominican Republic have long had a volatile relationship as neighbors on the Caribbean island of Hispaniola. But the Dominican Republic put aside such differences and was among the first responders after Haiti's devastating 2010 earthquake.
Follow us on twitter.com/foxnewslatino
Like us at facebook.com/foxnewslatino