Prosecutors seeks disqualification for ex-Catalan leader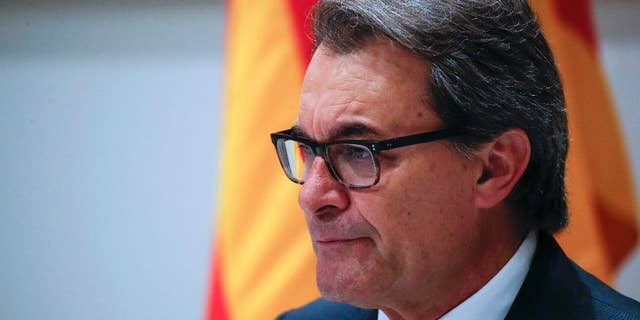 NEWYou can now listen to Fox News articles!
MADRID – Spanish prosecutors are seeking a 10-year disqualification from holding public office for former Catalan regional President Artur Mas for staging a vote on Catalonia's secession from Spain despite a suspension order by the Constitutional Court.
The prosecutor's office on Monday also called for nine-year disqualifications for two other ex-regional officials facing trial along with Mas on charges of grave disobedience and prevarication for staging the non-binding ballot on Nov. 9, 2014.
Mas, president of the powerful northeastern region between 2010 and 2016, claims the ballot was staged by volunteers. He is currently head of the Democratic Catalan Party, which governs in coalition in the region.
Catalonia held the poll after plans to stage a proper referendum were suspended when the Spanish government challenged its legality.