Pro-Palestinian protesters try to enter Paris synagogues, scuffle with police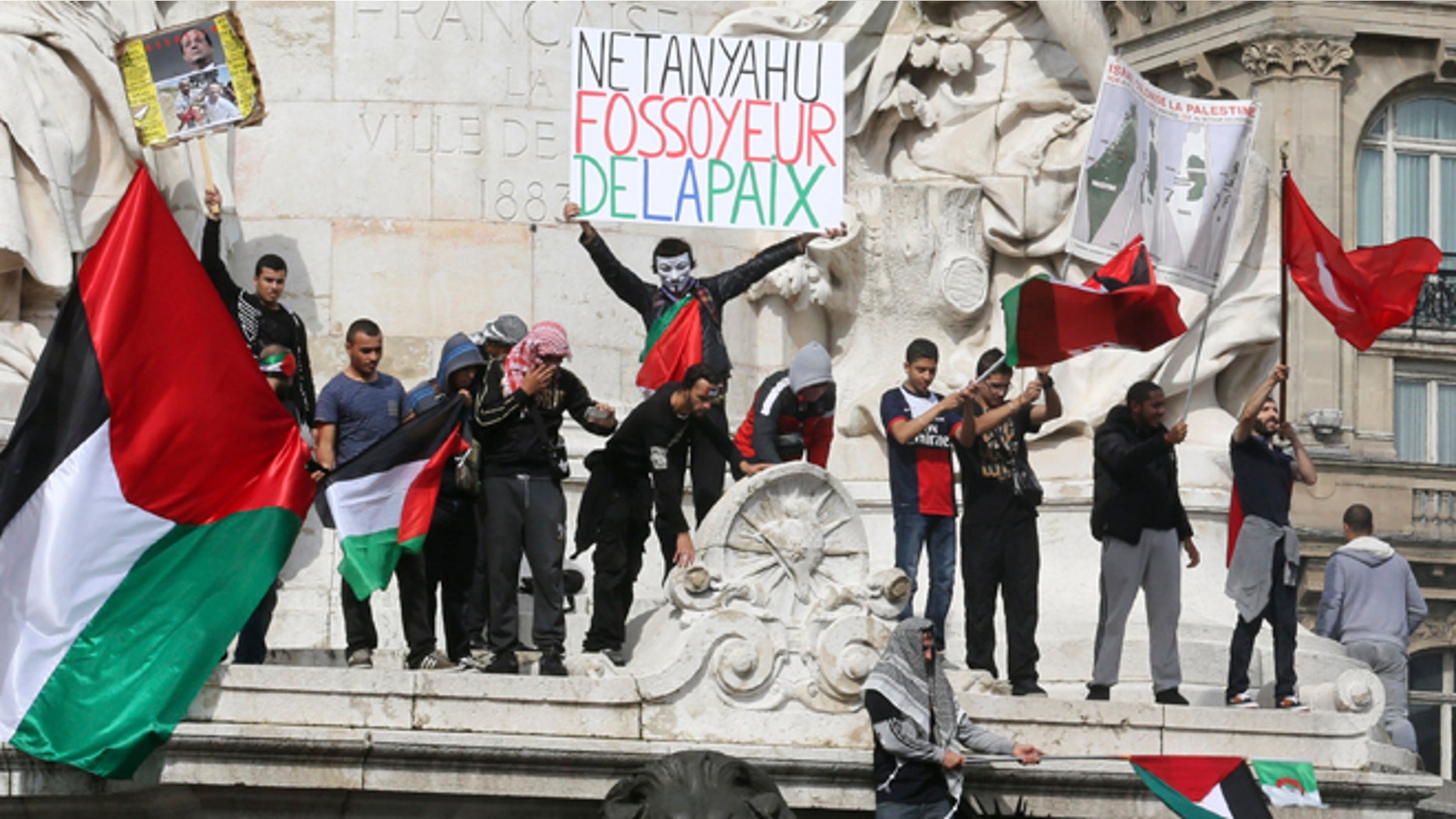 Recent violence in Gaza raised tensions in France Sunday as pro-Palestinian protesters tried to force their way into a Paris synagogue with bats and chairs, then fought with security officers who blocked their way, according to police and a witness.
Sunday's unrest by a few dozen troublemakers came at the end of sizable protest in the French capital demanding an end to Israeli strikes on Gaza and accusing Western leaders of not doing enough to stop them.
France is home to Western Europe's largest Muslim population and largest Jewish community.
Prime Minister Manuel Valls said two Paris synagogues had been targeted by unspecified violence that he called "inadmissible." In a statement, he said, "France will never tolerate using violent words or acts to import the Israeli-Palestinian conflict on our soil."
A police spokeswoman said the Don Isaac Abravanel synagogue in eastern Paris was targeted during a service, and worshippers were blocked inside while police pushed protesters back. The spokeswoman said all those inside left safely by Sunday evening.
Aline Le Bail-Kremer watched the incident unfold from her window across the street. She said protesters came from two directions and converged on the synagogue, grabbing chairs from sidewalk cafes and wielding bats as they tried to push past security guards.
Some 150 people were inside for a ceremony honoring three Israeli teens recently killed, said Le Bail-Kremer, a representative of anti-racism group SOS Racisme.
Sunday's protest, involving about 10,000 people, had been largely peaceful.
Despite sporadic rain, the marchers packed long and leafy Paris avenues, including young women in headscarves or Palestinian keffiyeh scarves. Some marched under enormous Palestinian green, white and black flags, while others waved signs reading "Stop Killing Children."
French President Francois Hollande is treading a careful diplomatic path on the Mideast violence, and trying to keep related tensions from escalating in France as they have during Intifadas in the past.
On Sunday Hollande urged a cease-fire "as quickly as possible." ''We will spare no effort, no trouble to achieve this," he said in a speech to dignitaries from around the world taking part in a special Bastille Day ceremony meant to celebrate peace.
Israel has launched more than 1,300 airstrikes since the offensive against Hamas began, military spokesman Lt. Col. Peter Lerner said Sunday.
In response, Palestinian militants have launched more than 800 rockets at Israel, including 130 in the last 24 hours, the Israeli military said Sunday.
Several Israelis have been wounded, but there have been no fatalities.
"We cannot accept that and will take the necessary action to stop it," said Israeli Prime Minister Benjamin Netanyahu, who declined to get into specifics. "We'll do what any country would do."
He also apologized for the civilian casualties but blamed Hamas for trying to use residents as human shields.
The Associated Press contributed to this report.