Prince William, Kate expecting third child, Kensington Palace says
Prince William and his wife, the Duchess of Cambridge, are expecting their third child, Kensington Palace announced Monday.
The news comes a day after the palace said former Kate Middleton was not feeling well enough to attend an engagement.
As with her other two pregnancies, the Duchess is suffering from Hyperemesis Gravidarum, or acute morning sickness, the palace said. She is being cared for at their London home.
"The queen and members of both families are delighted with the news," the palace said in a statement.
Prince William and Kate, both 35, already have two children: Prince George, 4, and Princess Charlotte, 2.
The big announcement comes when the royal couple is set to send George to school for the first time on Thursday.
Their choice of Thomas' Battersea in South London indicated that the Cambridges were settling into their Kensington Palace apartment, having moved recently from their Norfolk home, Anmer Hall.
It was not immediately clear when the baby is due though the duchess is less than 12 weeks pregnant putting the due date sometime between March and June. Betting agencies were already beginning to offer odds on possible names for the soon-to-be-born child in the House of Windsor.
"It is quite a significant week for them because Prince George is due to start at big school," Nicholas Witchell, a royal correspondent to the BBC, said. "Presumably his mother would be keen to take him to that, [but] whether she is going to be well enough to do that remains to be seen."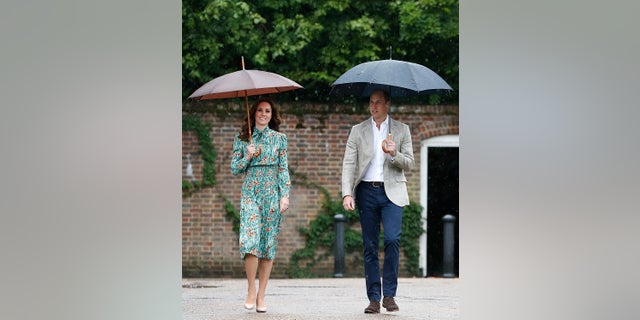 He added: "It had also been expected that the Duke and Duchess of Cambridge would be taking a foreign trip this autumn. Whether they will be able to do that or whether the duchess will be well enough to do that also remains to be seen."
The announcement also falls just a few days after the 20-year anniversary of the death of Princess Diana, William's mother.
Kate is the eldest of three siblings while William has a younger brother, Prince Harry.
The soon-to-be baby will be Queen Elizabeth II's sixth great-grandchild. The baby will also be fifth in line to the heir to the throne. In front of him/her are Prince Charles, Prince William, Prince George and Princess Charlotte.
The Associated Press contributed to this report.