Pope Francis prays for peace, laments 'winds of war' in Christmas message
Pope Francis urged those celebrating Christmas around the world to look for Jesus "in the faces of little children" suffering in war-torn and conflict-riven regions from the Middle East to Africa to the Korean Peninsula.
The pontiff, praying for peace, told the faithful in his traditional Christmas message Monday that "the winds of war are blowing in our world and an outdated model of development continues to produce human, societal and environmental decline."
From the balcony of St. Peter's Basilica at the Vatican, Francis also called for a negotiated two-state solution to end the Israeli-Palestinian conflict as he highlighted children suffering "because of growing tensions between Israelis and Palestinians."
POPE'S CHRISTMAS EVE MESSAGE: BETHLEHEM TREK LIKE TODAY'S MIGRATIONS
It was the second time the pope spoke out publicly about Jerusalem since President Trump's U.S. embassy decision Dec. 6.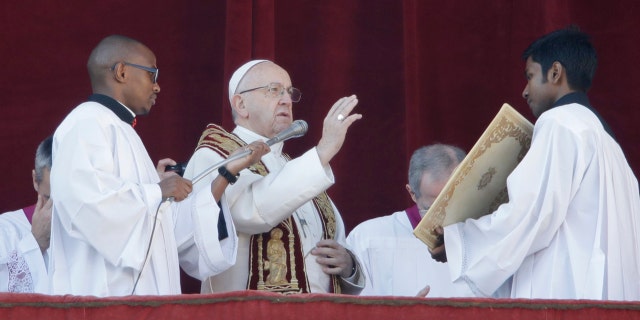 "Let us pray that the will to resume dialogue may prevail between the parties and that a negotiated solution can finally be reached, one that would allow the peaceful coexistence of two states within mutually agreed and internationally recognized borders," he said.
Also in his message and blessing, the pontiff said children in Syria remain "marked by war" and the ongoing conflict in Yemen "has been largely forgotten."
TEXT OF POPE FRANCIS' TRADITIONAL CHRISTMAS DAY MESSAGE
He offered a prayer that "confrontation may be overcome on the Korean Peninsula and that mutual trust may increase in the interest of the world as a whole."
The pope concluded: "May we commit ourselves, with the help of his grace, to making our world more human and more worthy for the children of today and of the future."
The Associated Press contributed to this story.