Pope Francis makes first South Korean visit in 25 years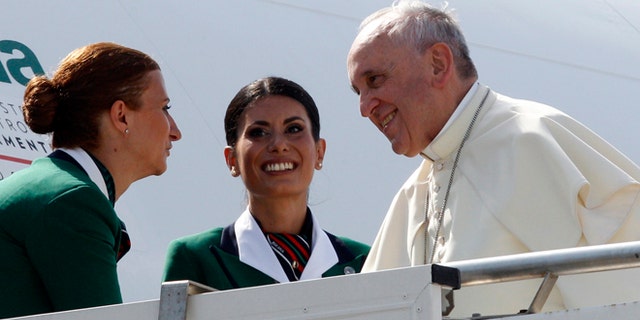 SEOUL, South Korea – Pope Francis arrived Thursday in South Korea on the first papal visit to the Asian nation in a quarter century, stepping off the plane onto a red carpet and greeting President Park Geun-hye.
During his five-day visit, Francis plans to beatify 124 Korean martyrs and encourage a vibrant and growing local church seen as a model for the future of Catholicism.
The pope was also greeted by relatives of a South Korean ferry sinking that killed more than 300 and descendants of Korean martyrs. Some elderly Catholics wiped tears from their faces with handkerchiefs.
As his plane flew through Chinese airspace, Pope Francis sent a telegram of greetings and prayers to Chinese President Xi Jinping. It was a rare opportunity for an exchange since the Holy See and Beijing have no diplomatic relations.
The telegram, sent early Thursday as Francis headed toward South Korea, read: "Upon entering Chinese airspace, I extend best wishes to your excellency and your fellow citizens, and I invoke the divine blessings of peace and well-being upon the nation."
Vatican protocol calls for Francis to send telegrams to heads of state whenever he flies through their airspace. Usually they pass unnoticed.
Thursday's telegram was unique though because the last time a pope wanted to fly over China, in 1989, Beijing refused.
Francis has sought to continue the outreach to China launched by Emeritus Pope Benedict XVI. He recently revealed that he had sent a letter to Xi upon his election and had received a reply. Vatican officials say there is a dialogue with Chinese authorities. But the core issue dividing them -- Rome's insistence on naming bishops -- remains.
Other highlights of Francis' visit include his participation in a Catholic festival for young believers from around Asia and a Mass for peace and reconciliation on the war-divided Korean Peninsula. A ceremony Saturday to beatify Korean martyrs who perished for their faith from 1791 to 1888 could draw about 1 million people, South Korea's Yonhap news agency reported.
Although the pope plans to reach out to South Korea's archrival, North Korea, during the visit, authorities in the North declined an invitation by the Seoul archdiocese to send a delegation to attend a Mass, the Vatican said.
A few women forced into sexual slavery by the Japanese military during World War II will attend a Mass, although no private audience is expected, the Vatican said. The pope is also expected to meet with some families of the more than 300 people killed when a South Korean ferry sank in April. The government's response to the disaster, which killed mostly high school students, has angered many South Koreans.
"A lot of bad things keep happening in our country right now, and people are going through tough times. So I hope this event can encourage people and bring more positive things to our country," said Ryun Sun-hee, a 19-year-old college student.
It's the first papal visit since Pope John Paul II traveled to South Korea in 1989. In January, Francis plans to visit Sri Lanka and the Philippines.
South Korea's church, which has been growing steadily over the last half century, is seen as a model for the future. Local church officials hope for a continuing increase in believers in a country that once welcomed missionaries to help spread the faith but now sends its own priests and nuns abroad to evangelize in other countries.
There was high anticipation in South Korea ahead of the visit.
The sound of construction could be heard at places in central Seoul that the pope will visit. Traffic has been more congested and security has been tighter than usual in those areas.
Banners and posters welcoming the pope decorated streets and subway stations. Yonhap reported an increase in sales of rosaries and other Catholic goods, and special displays of books on the pope and Catholicism have sprung up in book stores.