Pope Francis Holds First Private Audience with Argentinean President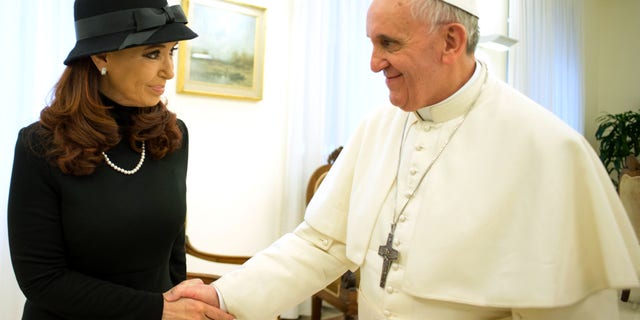 Vatican City – In a church where forgiveness is taught and doctrine is important, the new pope is getting a lesson in diplomacy.
Pope Francis met with Argentinean President Cristina Fernández de Kirchner Monday, a leader whom he has clashed over her socially liberal policies and what he has called the government's totalitarianism.
Fernández called on the former Archbishop of Buenos Aires at his temporary home, the Vatican hotel on the edge of the Vatican gardens, and the two later lunched together. The meeting took place a day before she and other world leaders attend his installation Mass in St. Peter's Square, which some estimates say could bring 1 million people to Rome.
The venue was unusual, given the pope has technically taken possession of the papal apartment in the Apostolic Palace, where such formal audiences are usually held. For a pope who has already come to be known for his gestures, the choice was perhaps significant, though he has conducted all of his audiences in the hotel to date, including with the Vatican secretary of state earlier in the day.
The Vatican said it planned no statement, describing the meeting as private and informal.
Fernández and her predecessor and late husband, Néstor Kirchner, defied church teachings to push through a series of measures with popular backing in Argentina, including mandatory sex education in schools, free distribution of contraceptives in public hospitals, and the right for transsexuals to change their official identities on demand.
In 2010 Argentina became the first Latin American country to legalize same-sex marriages.
According to Francis' authorized biographer, Sergio Rubin, the former Cardinal Jorge Mario Bergoglio was politically wise enough to know the church couldn't win a straight-on fight against gay marriage, so he urged his bishops to lobby for gay civil unions instead. It wasn't until his proposal was shot down by the bishops' conference that he declared what gay activists called a "war of God" on the measure — and the church lost the issue altogether.
Fernández issued a perfunctory message of congratulations when Francis was elected last week, calling the election of the first Latin American pope "historic" and saying she hoped that given his namesake, St. Francis of Assisi, the new pope would inspire world leaders to pay greater attention to the poor and pursue dialogue rather than force to resolve disputes.
She has, however, remained unusually silent about the election on her otherwise prolifically active Twitter account, posting a single tweet on his election day: "To your Holiness Francis I" with a link to her letter of congratulations, which wasn't even signed.
Their chilly relations became crystal clear after the Kirchners several years ago stopped attending the church's annual "Te Deum" address challenging society to do better, which is delivered each May 25.
In last year's address, Bergoglio said Argentina was being harmed by demagoguery, totalitarianism, corruption and efforts to secure unlimited power: a strong message in a country whose president has ruled by decree and left scandals unpunished.
Historic Installation
The Vatican is releasing details of the pope's installation Mass on Tuesday as well images of his coat of arms and fisherman's ring.
In addition to more than 132 government delegations, the Vatican said 33 Christian delegations will be present, as well as representatives from Jewish, Muslim, Buddhist, Sikh and Jain communities.
The ring that Pope Francis will put on during the Mass once belonged to Pope Paul VI, and is made of gold-plated silver.
Francis' papal coat of arms is based on the same simple one as he had previously, with the symbol of his Jesuit order.
Based on reporting by The Associated Press.
Follow us on twitter.com/foxnewslatino
Like us at facebook.com/foxnewslatino