Pope Francis Gives 25,000 Soon-To-Wed Lovebirds Personal Relationship Advice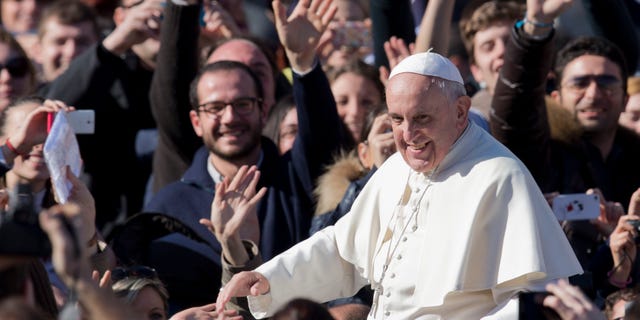 VATICAN CITY (AP) – Pope Francis offered some Valentine's Day advice Friday for a lasting marriage, telling 25,000 lovebirds that the recipe for success lies in saying three simple words: "Please, thanks and sorry."
Francis told fiancés gathered in St. Peter's Square for a special papal date that expressions of courtesy, gratitude and contrition go a long way toward conserving and enhancing love over time.
"Never finish the day without making peace!" he begged them. "Because if you end the day without making peace, what you have inside becomes hard and cold and it becomes harder to make peace the following day."
Francis has on several occasions met with young couples to give them advice before embarking on marriage. The need for such church counseling, both before and after the wedding, is a theme he's expected to elaborate on at a major Vatican meeting on the family in October.
Francis has often lamented how many marriages end in divorce and has blamed such failed relationships on today's prevailing "provisional culture" that makes people unwilling to make lifelong commitments.
Originally the audience was due to be held inside a Vatican auditorium. But the response from soon-to-wed couples to Francis' invitation for a Valentine's Day date was so great — Vatican officials said 25,000 people from 30 countries showed up — that the event was held in the piazza on a perfect, sunny afternoon after weeks of rain.
Francis joked that we all make mistakes and that no one is perfect: "The perfect family doesn't exist, nor the perfect husband nor wife. Let's not even talk about the perfect mother-in-law!"
Follow us on twitter.com/foxnewslatino
Like us at facebook.com/foxnewslatino