Pompeo assures Philippines of US protection in South China Sea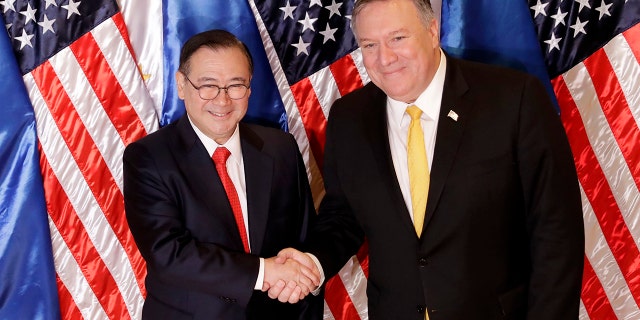 U.S. Secretary of State Mike Pompeo assured the Philippines on Friday that the United States will come to its defense in the event of a conflict in the South China Sea.
Pompeo told the Philippines delegate during his visit to Manila that the U.S. is committed to ensuring that the busy waterway remains open to all kinds of navigation and that "China does not pose a threat" of closing disputed sea lanes.
AFTER TRUMP-KIM SUMMIT COLLAPSES, NORTH KOREA INSISTS THEY MADE 'REALISTIC PROPOSAL' ABOUT LIFTING SANCTIONS
"I think the whole world understands that the Trump administration has made a true commitment to making sure that these seas remain open for the security of the countries in the region and the world, open to commercial transit," Pompeo said.
The remarks were an attempt to reaffirm the 1951 Mutual Defense Treaty that Philippines' security officials want re-examined because of concerns over its vagueness, Reuters reported.
"China's island building and military activities in the South China Sea threaten your sovereignty, security and, therefore, economic livelihood, as well as that of the U.S.," Pompeo said.
CLICK HERE TO GET THE FOX NEWS APP
Chinese officials have refuted such U.S. assertions in the past, saying Beijing will never threaten freedom of navigation in the South China Sea.
The Associated Press contributed to this report.