Polish court orders extradition of Israeli man suspected of involvement in Hamas killing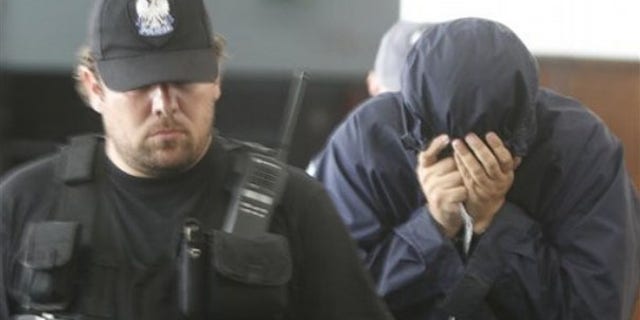 NEWYou can now listen to Fox News articles!
WARSAW, Poland – WARSAW, Poland (AP) — An Israeli man suspected of involvement in the slaying of a Hamas operative will be extradited to Germany, a Polish court ruled Wednesday.
Suspected Mossad agent Uri Brodsky is wanted by Germany, which accuses him of the crimes of spying and of helping falsely obtain a German passport allegedly used in connection with the assassination of Mahmoud al-Manhouh in a Dubai hotel in January.
Suspicion immediately fell on the Mossad, but Israel has never commented on the killing and has refused comment on Brodsky.
The Polish judge, Tomasz Calkiewicz, ruled Wednesday that Brodsky can be extradited based on suspicion of forgery. That means that Germany can only charge him with that crime, which carries a sentence of three years.
Calkiewicz said that Poland cannot extradite him on espionage charges because espionage against Germany is not a punishable crime in Poland. The German federal prosecutor's office said it cannot comment on the case because it has not officially been informed of the details of the decision.
One of Brodsky's lawyers, Anna Mika-Kopec, said that his legal team has not yet decided whether to appeal. But she said the ruling could be good for him because his potential sentence is less than he would face if he were tried and convicted of forgery and spying. Spying could carry up to an additional five years.
She stressed that the Warsaw court did not examine the matter of Brodsky's innocence or guilt, focusing only on whether the German request was valid. Another lawyer for Brodsky, Krzysztof Stepinski, said his client would make a decision on whether to appeal after he receives a Hebrew translation of the court documents.
The Brodsky case has put Poland in a predicament because it is close allies with both Germany, its western neighbor and its largest trade partner, and Israel.
Officials refused to comment on the political dimension of Wednesday's ruling, though it appears to be something of a compromise — Poland will extradite him to Germany but has ensured that he will face lesser charges.
Nazi Germany invaded Poland, rounding up Polish Jews and transporting many others from around Europe to Nazi death camps on Polish soil. The postwar years were also marred by sometimes murderous Polish anti-Semitism.
Today, Germany and Poland both put special importance on their relationship with Israel and are considered two of the Jewish state's strongest supporters in Europe.
Brodsky was escorted into court Wednesday by masked police officers wielding machine guns. He wore a navy jacket with a hood that he pulled tightly over his head and covered his face in his hands, hunching slightly as he entered the courtroom.
The hearing was held behind closed doors but reporters were allowed in at the end to hear the judge's ruling. During the verdict, Brodsky sat with his back to journalists, his head bent forward.
The court also extended his detention until September.
Brodsky was arrested June 4 at Warsaw's international airport, where he had hoped to take a flight to Tel Aviv.
The Dubai assassins also used fake passports from Britain, Ireland, France and Australia.