Police officer, others injured in Munich subway shooting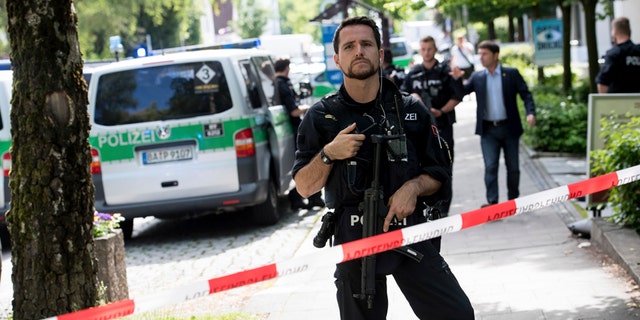 NEWYou can now listen to Fox News articles!
BERLIN – A police officer was shot in the head at a Munich subway station Tuesday after a man grabbed her colleague's service pistol and opened fire, also injuring two bystanders, German authorities said.
The officer's injuries were considered life-threatening, Munich police spokesman Marcus da Gloria Martins said.
The suspect, identified only as a 37-year-old German man, was apprehended in Unterfoehring station after being wounded in an exchange of fire with police, da Gloria Martins said.
Authorities were called to the station at 8:20 a.m. (0620 GMT) to deal with a fist fight aboard a subway train, Munich police said in a written statement.
The first two officers on the scene confronted one of the men, who shoved one of the officers and took his pistol. The man then fired at the policeman's colleague, hitting her in the head. The 26-year-old officer was being treated in the hospital for serious injuries, police said.
Other officers arriving on the scene were able to arrest the suspect after an exchange of fire with him.
Authorities do not believe the incident had to do with terrorism, saying that the suspect appeared to have acted out of "personal" reasons and not with political or religious motivations, da Gloria Martins said.
Police had initially said the suspect had grabbed the wounded officer's pistol, but corrected that in a statement issued later.