Police investigate possible refugee link to dozens of reported assaults at Swedish festivals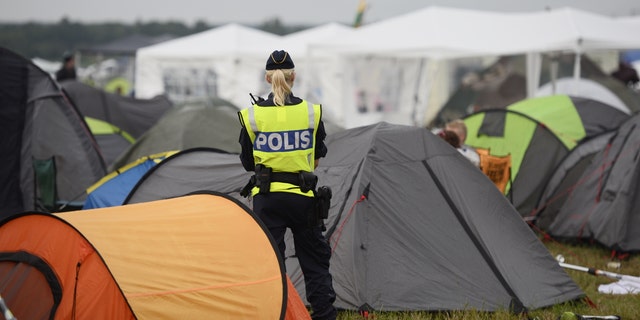 Several dozen women reported being raped or sexually assaulted at two music festivals in Sweden last weekend, according to police who said Tuesday they were investigating claims this was yet another string of attacks by refugees or foreign visitors.
Police faced a backlash earlier this year for failing to inform the public of widespread sexual assaults against teenage girls at a Swedish music festival a year ago, which came to light in January after a series of New Year's Eve sexual assaults and robberies linked to refugees in Cologne, Germany.
Police Inspector Leif Nystrom said there had been 32 reports of attacks by boys or young men at a three-day festival in the city of Karlstad, 190 miles west of the capital, Stockholm. The youngest alleged victim was 12. Police identified seven young men they wanted to question.
Meanwhile in Norrkoping, police told local media that they that were investigating five cases of alleged rape and more than a dozen suspected sexual assaults at the Bravalla Festival in the city, southwest of Stockholm.
Police initially described the suspects as "foreign young men," the UK Telegraph reported. One 15-year-old girl told a local newspaper "foreign youths" molested five of her six friends.
After playing in Norrkoping, British rock band Mumford & Sons posted a note on their Facebook site saying they were "appalled ... and gutted by these reports" of rape and sexual assault.
The band said Tuesday they would not play Bravalla again unless police and organizers could assure them that they are "doing something to combat what appears to be a disgustingly high rate of reported sexual violence."
Swedish pop singer Zara Larsson said the attackers "deserved to burn in hell." She also tweeted, "Damn you people who shamelessly rape a girl in public."
Swedish Prime Minister Stefan Lofven described the situation as "totally unacceptable" and said that laws on sexual assault would be tightened.
"We are in the process of reviewing them," he said in a speech at a political seminar. "It's also important that we continue to ensure that police, prosecutors and other officials are better equipped to investigate such crimes and actually catch the perpetrators."
"We want to catch the suspects because we need to talk to them," Nystrom said. "The number of such cases has increased slightly since last year, but I'm really not sure if this is a common problem at festivals."
In neighboring Denmark, where the annual weeklong Roskilde rock festival attended by 130,000 people wound up on Sunday, police said they had reports of five cases of alleged rape or sexual assault, which police officer Carsten Andersen described as "nothing out of the ordinary at such a big event, although every single case is too much."
The Associated Press contributed to this report.