Poland to issue Lech Walesa postage stamp on 70th birthday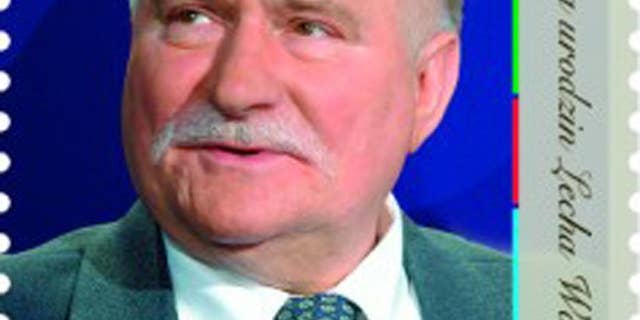 NEWYou can now listen to Fox News articles!
Warsaw (AFP) – Poland's post office said it will issue a stamp in honour of revolutionary leader Lech Walesa, timing the release with the Nobel Peace laureate's 70th birthday on Sunday.
The stamp of the Polish icon sporting his trademark moustache will have a face value of 3.80 zloty (90 euro cents, $1.22), the post office said on its website.
Walesa led the Solidarity trade union that negotiated a bloodless end to communism in Poland in 1989. The following year he became the country's first democratically elected president since World War II.
The post office will also release special collector's envelopes with four black-and-white photos chronicling the big events of Walesa's life until 1990.
The envelopes will include a special postmark of two hands with fingers forming Vs for victory.
The stamp tribute follows on the heels of the biopic "Walesa: Man of Hope" by Polish director Andrzej Wajda, which premiered in Venice earlier this month.
The film hits Polish cinemas on October 4 and is the last instalment of a trilogy on how disillusionment with communism among workers helped bring the system down from within.