Plea deal shows links between Brazil's Temer and Petrobras corruption probe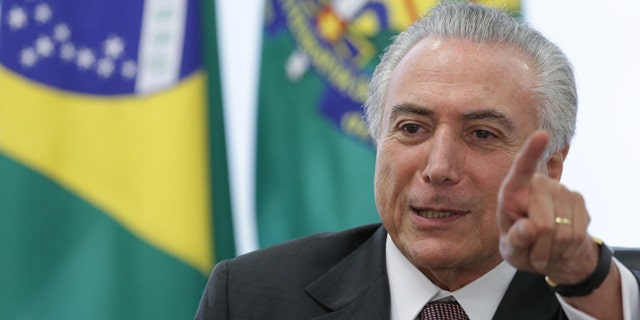 NEWYou can now listen to Fox News articles!
BRASILIA, Brazil (AP) – Brazil's acting President Michel Temer on Wednesday rejected allegations that represented the first direct link between him and the massive corruption probe at state-run oil company Petrobras, denying that he sought campaign funds for his party's mayoral candidate in São Paulo as part of a kickback scheme.
Sergio Machado, former head of a state run-oil subsidiary called Transpetro, said in a plea bargain deal made public Wednesday that Temer asked him to channel $400,000 in company funds to 2012 São Paulo mayoral candidate, Gabriel Chalita.
At the time, Temer was the country's vice president and a key figure of the Brazilian Democratic Movement Party. He became interim president on May 12 after President Dilma Rousseff was suspended for allegedly breaking fiscal laws.
Machado said the payments were channeled through legal campaign donations made by the construction firm Queiroz Galvão, but resulted from Petrobras kickbacks.
According to testimony by prosecutors in the plea bargain document, Temer wanted Machado "to ask for illegal funds from companies that had businesses with Transpetro in the form of official donations for Chalita's campaign."
In a statement, Temer called Machado's accusations "completely untrue." The construction firm and Chalita have also denied wrongdoing.
Transpetro is a subsidiary of Petrobras, which is at the heart of the political crisis that led to impeachment proceedings against Rousseff. Machado headed the firm from 2003-2015.
Brazil's Supreme Federal Tribunal lifted the seal on the plea bargain late Tuesday and it was made public on Wednesday.
Machado accused more than 20 politicians from various parties of corruption.
Among other things, he claimed to have paid almost $10 million in bribes to Senate president Renan Calheiros over 10 years.
Calheiros has denied any wrongdoing. He chairs the upper house that will make the final vote on Rousseff's impeachment trial in the coming months.
It's not the first allegation of corruption against the interim president since he took over a month ago. A former senator turned state's witness recently accused Temer of appointing a lobbyist to distribute bribes between 1997 and 2001 in ethanol deals through Petrobras. Temer has denied that as well.
Like us on Facebook
Follow us on Twitter & Instagram