Peruvian ex-President Alejandro Toledo remains fugitive, possibly in the U.S.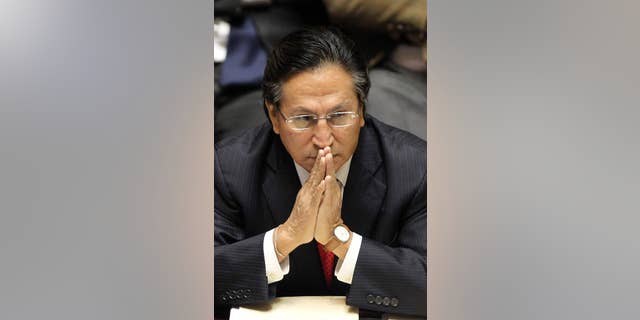 A Peruvian judge has issued a national and international arrest warrant for former President Alejandro Toledo for allegedly taking $20 million in bribes from Brazilian construction company Odebrecht.
A reward of more than US$30,000 was announced Friday for information leading to his whereabouts.
He was in Paris for a meeting earlier in the week and is a visiting scholar at Stanford University in California.
Judge Richard Concepcion accepted prosecutors' request Toledo be jailed for up to 18 months as they investigate allegations he received the money in exchange for permission to build a highway connecting Brazil with the Peruvian coast.
COLOMBIA'S SANTOS MAY HAVE RECEIVED ODEBRECHT CONTRIBUTIONS
The judge said a red alert had been sent to the international police agency Interpol for his arrest "wherever he is."
Toledo, who was president from 2001-2006, has denied any wrongdoing.
Police searched Toledo's home in Lima on Saturday. The 70-year-old former president has said would return to Peru as long as he could be assured of a fair trial.
"Say when, how and where and in what bank they've given me $20 million," an angry Toledo said in an interview with a local radio station over the weekend.
If Toledo is jailed in Peru, he would join Alberto Fujimori as the country's second former president behind bars.
Odebrecht has admitted to paying almost $800 million in bribes to governments across Latin America as part of a December plea agreement with the U.S. Justice Department.
HOME OF EX-PERUVIAN PRESIDENT TOLEDO SEARCHED IN GRAFT PROBE
In Peru, they acknowledged paying $29 million for projects built during the government of Toledo and two successors.
The alleged payments were believed to have been made through Toledo's friend, Peruvian-Israeli businessman Josef Maiman, who prosecutors say they are also investigating along with the Odebrecht's former boss in the country, whose testimony triggered the probe.
The AP contributed to this report.