Pastor who praised killings in Orlando doubles down on controversial remarks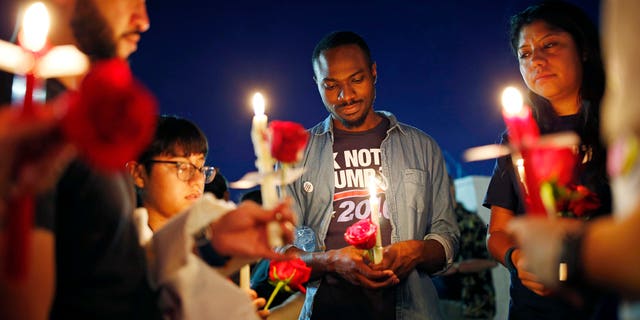 A Baptist pastor from California who reacted to the massacre of 49 people at an Orlando gay nightclub early Sunday morning by saying in his sermon that day that the victims deserved their fate because of their sexual orientation is defending his controversial remarks.
Pastor Roger Jimenez told the local CBS affiliate that while there has been wide condemnation of his comments about the killings, he has received private expressions of support for his remarks.
Jimenez came under fire after he said in a sermon Sunday, just hours after the worst mass shooting by an individual in the history of the United States, that the victims deserved to die because their LGBT lifestyle made them sinners.
The video of his remarks, captured on Verity Baptist Church's YouTube page, was removed by the video site because it violates the company's hate speech rules.
In the controversial sermon, Jimenez said, "If we lived in a righteous government, they should round them all up and put them up against a firing wall and blow their brains out."
Earlier this week he told CBS that he did not regret his remarks.
"As far as the Bible is concerned, they crossed a line. The sin they performed is worthy of death," he said, according to CBS. "I realize our society doesn't take that, but that's what the Bible says. If someone does something that's worthy of death, and they end up dying, I'm not going to mourn them."
Jimenez also reiterated that Orlando as a community was a safer place now.
"Absolutely, I think they are safer now because of these deaths, and the reason I think that is because I believe all of these homosexuals are pedophiles, and the Bible ... See, our culture and our society puts them in these categories – gay, lesbian, whatever – but that's not found in scripture," Jimenez said. "I understand the world does not want to accept that. That's fine. I'm saying as a Christian, the Bible puts people in two categories: normal/natural, unnatural."
In Florida, faith leaders from a wide variety of denominations have come to the aid of survivors and families of victims, saying that this is a time to put humanity and compassion before all else. Many have opened their churches to everyone in the community seeking solace or help in the aftermath of the massacre.
Dr. Phillip Goudeax of Calvary Christian Center told CBS that he is pained by Jimenez's words about the tragedy.
"It's really about walking in love and grace and passion and mercy. It's about compassion," Goudeax said. "My heart was broken. Nobody deserves to be murdered."

Like us on Facebook