Pastor Brunson appeal for house arrest release rejected by Turkish court
A Turkish court has rejected an appeal to release American pastor Andrew Brunson from his house arrest, according to local media.
Brunson, a 50-year-old evangelical pastor, faces 35 years in prison on charges of espionage and terror-related charges. He has been held in Turkey for two years and accused by local prosecutors of "terrorist" ties to the Islamist Gulen movement, which has been blamed for a failed coup in July 2016. Its leader lives in Pennsylvania and the U.S. has rejected calls from Turkey to have him extradited.
The Turkish court in Izmir upheld a lower-court decision that rejected lifting Brunson's house arrest, according to the state-run Anadolu agency. It also rejected an appeal for his travel ban to be lifted. Brunson's next hearing is scheduled for October 12.
The ongoing case has caused a deterioration in U.S.-Turkish relations.
FRUSTRATED SUPPORTERS OF ACCUSED US PASTOR IN TURKEY KEEP UP THE PRESSURE
On Friday, the Turkish lira, which suffered record losses against the dollar earlier this week before recovering, fell about 5 percent, to about 6.11 to the dollar, after President Trump warned via Twitter that the country faces more punitive measures. The lira's sharp decline has sparked fears in the international community of a Turkish economic crisis.
Speaking as he left the White House on Friday, Trump told reporters on the South Lawn: "They have a wonderful Christian pastor.
"Turkey has been a problem for a long time. They have not acted as a friend… They made up this phony charge that [Brunson] is a spy and he's not a spy… They should have given him back a long time ago."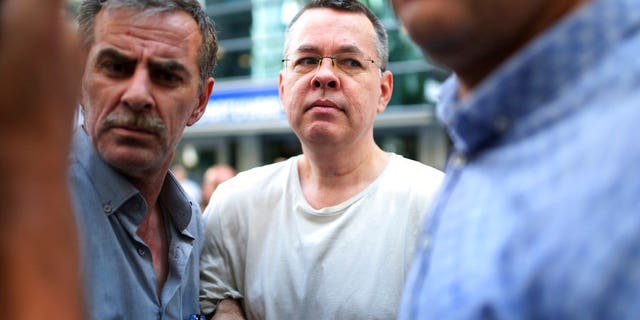 TRUMP ON US PASTOR JAILED IN TURKEY: 'WE WILL PAY NOTHING FOR THE RELEASE OF AN INNOCENT MAN'
On Thursday, Trump tweeted: "Turkey has taken advantage of the United States for many years.
"They are now holding our wonderful Christian pastor, who I must now ask to represent our Country as a great patriot hostage.
"We will pay nothing for the release of an innocent man, but we are cutting back on Turkey."
The U.S. has imposed sanctions on two Turkish government ministers and double tariffs on Turkish metal imports. Turkey has retaliated with $533 million-worth of tariffs on U.S. imports, including tobacco and alcohol.
Recep Tayyip Erdogan, the Turkish president, said last Saturday: "I call out to those in the United States. It is a shame. You are trading a strategic NATO ally for a priest."
Fox News' Hollie McKay contributed to this report