Parts of North Korean Land Mines Wash Up in South After Land Slide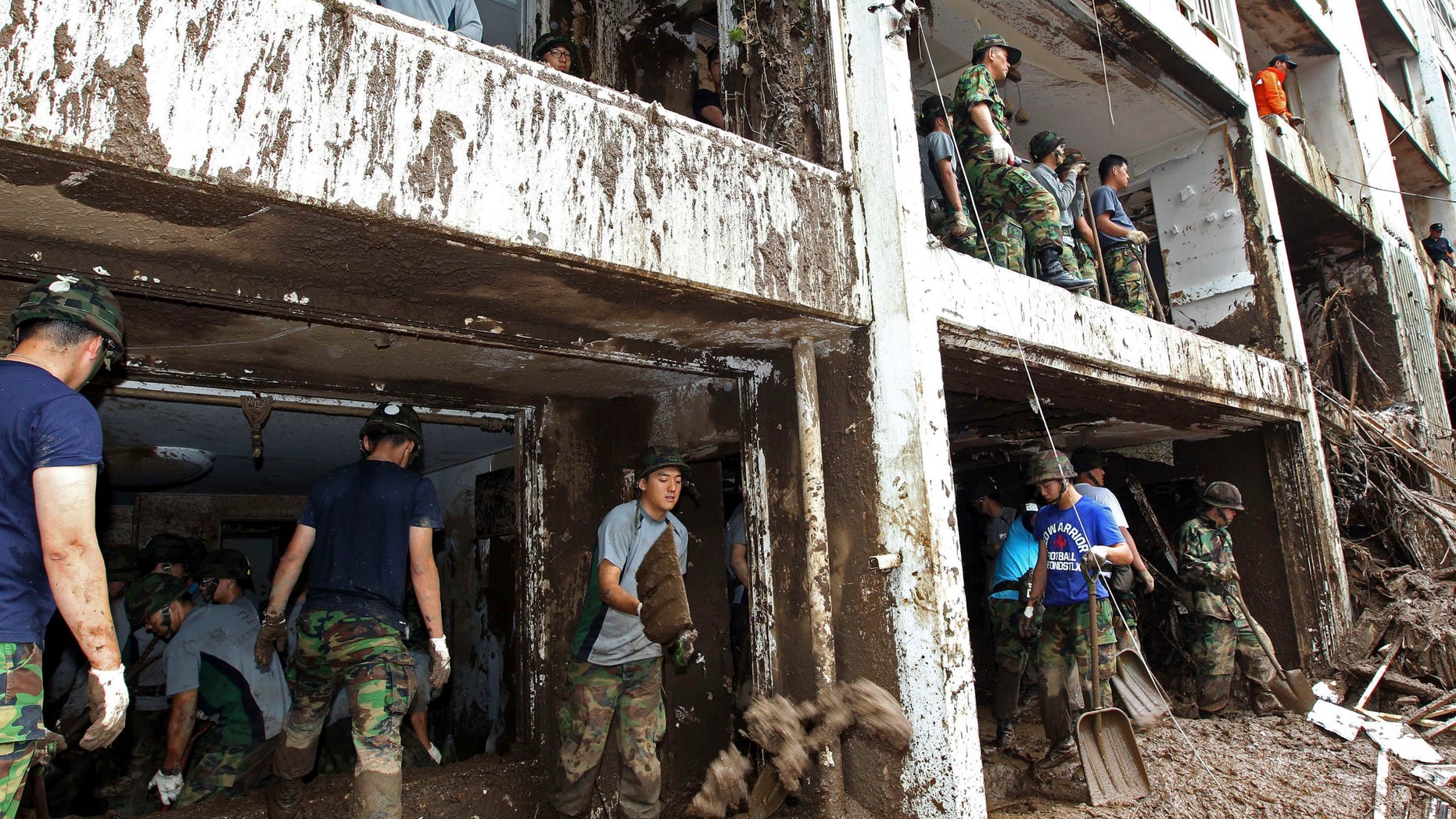 SEOUL, South Korea-- Parts of North Korean land mines washed down a swollen river into South Korea, and troops searched Friday for other mines that may have been dislodged by deadly landslides and flooding that has stricken the peninsula, authorities said.
Two wooden North Korean mine boxes were found in a river in Cheolwon on the South Korean side of the Demilitarized Zone. The boxes were empty, the detonators and explosives believed to have been lost in the current, a Defense Ministry official said.
Soldiers were searching the area for other North Korean mines, said the official, who requested anonymity based on department rules. He said accidential dislodgement was suspected rather than North Korea intentionally sending the mines downstream.
North Korean mines have floated south on river currents in the past. Dozens of wood box mines swept south after heavy rains last year, killing a South Korean and injuring another.
There were fears, too, that South Korean land mines may be buried in the debris of a deadly landslide in Seoul.
The mines are a reminder of the continued danger of war on the Korean peninsula. The DMZ is heavily mined, but South Korea has also buried the weapons over the years mainly to defend military installations.
Some of those mines were planted decades ago at Wumyeon Mountain in southern Seoul, where a landslide on Wednesday killed 16 people. Most of the mines had been removed between 1999 and 2006, but 10 mines have not been accounted for, officials said.
About 140 South Korean soldiers gripping metal detectors searched for land mines on Wumyeon Mountain and around South Korean army installations near the border to prevent them from harming people.
Torrential downfalls since Tuesday have severely disrupted life in Seoul and its surrounding areas, submerging streets filled with idled cars, flooding subway stations and forcing businesses to shut. At least 50 people have been killed.
Weather conditions greatly improved Friday with little rain, a welcome relief from days of downpours. Traffic problems eased and many people returned to homes. In Gyeonggi province near Seoul, some searching was still going on for bodies or possible survivors, though most efforts focused on cleanup.
The official death toll of 50 does not include 11 other people who died in accidents amid the rains that emergency officials say were caused by negligence. They cited a man who was drunk and went swimming in the floodwaters and drowned.
Heavy rains also pummeled North Korea, destroying homes and buildings, state media said.
North Korea is particularly susceptible to damage from flooding due to poor drainage and widespread deforestation, according to agronomists.