Paris set to get its first woman mayor, either leftist front-runner or conservative challenger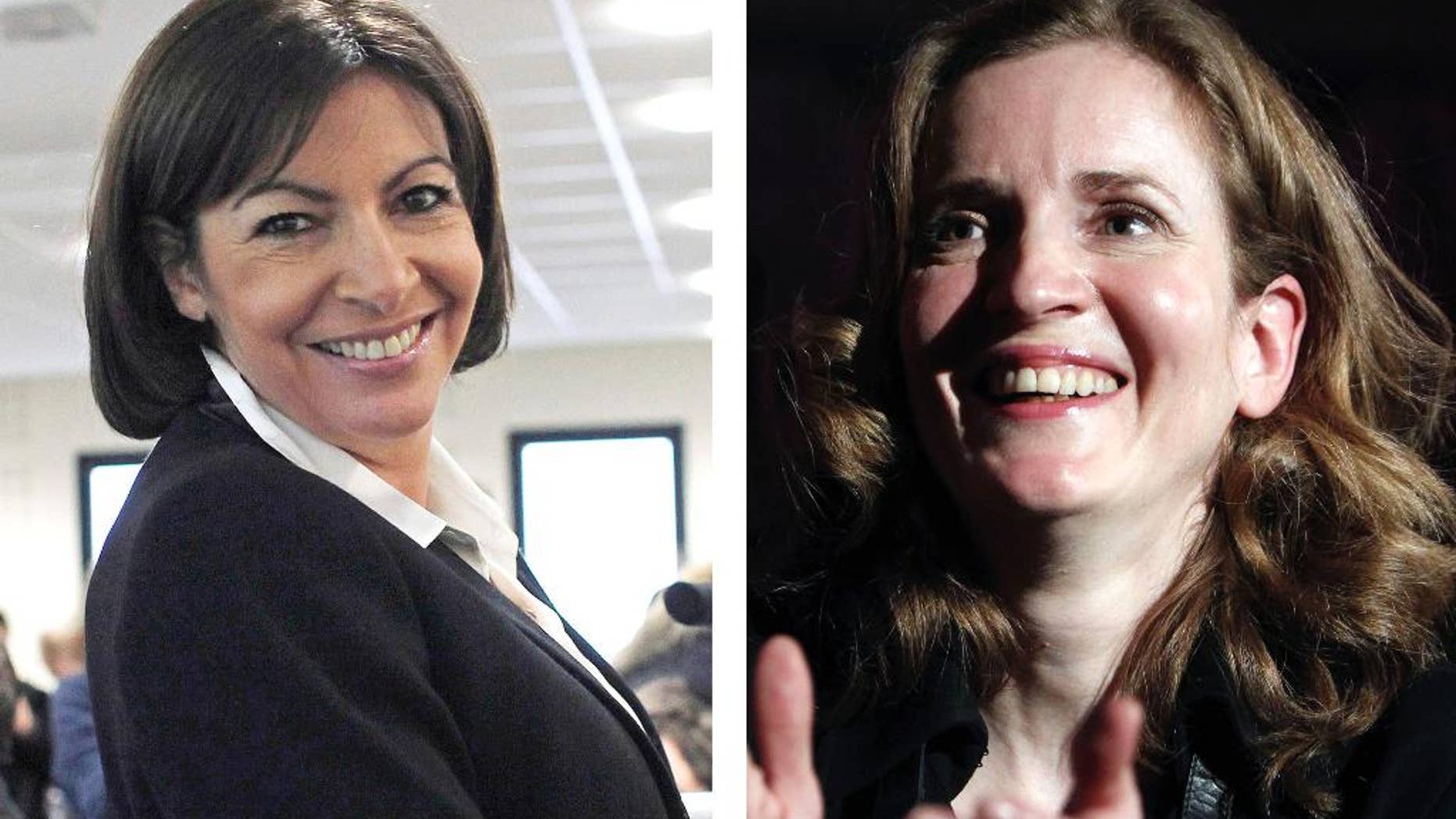 PARIS – Two women are at war to be the new face of Paris, the first time in this city's long history that the mayor won't be a Monsieur.
The discreet, hard-working Socialist Anne Hidalgo is the favorite to win municipal elections that start Sunday, which would keep this leading tourist destination in leftist hands despite the deep unpopularity of President Francois Hollande's Socialist national government.
"A woman at the head of one of the most important cities of the world ... will have of course a very, very important influence," Hidalgo told The Associated Press. It will also send an important message to leaders and voters in a country where women only got the vote at the end of World War II and where sexist attitudes persist toward women in power.
Hidalgo, 54, has experience on her side, after 13 years as the deputy to outgoing Paris Mayor Bertrand Delanoe. In all recent polls, Hidalgo leads center-right challenger Nathalie Kosciusko-Morizet, a 40-year-old rising star of former President Nicolas Sarkozy's party known by her initials NKM.
The race for Paris mayor — one of the most coveted jobs in French politics — is one of several thousand underway across the country for municipal elections held in two rounds March 23 and 30.
Both the top candidates in the capital pledge to improve security and transport and to build more public housing in one of the most expensive cities of the world.
Hidalgo, whose parents emigrated from Spain when she was 2, plays a low-profile card, arguing she'd rather meet with as many Parisians as possible than be a media star. She leads such a quiet campaign that she has been accused of "hibernating" by her conservative opponents.
"I'm very calm, very relaxed, very determined," Hidalgo told the AP. "We are going to write a new page for our city. We're going to take up new challenges regarding ecology, solidarity and democracy." Hidalgo says she wants to allocate 5 percent of the city investment budget — 71 million euros per year — to finance projects from citizens' initiatives.
Her ambitious challenger Kosciusko-Morizet, a former environment minister during Sarkozy's presidency who hardly hides her interest in the French presidency someday, was at first considered to have a real chance to win Paris. But her campaign has been compromised by dissent in her own party. Her party lists are facing dissident conservative candidates in some districts, which could cost her some precious votes.
One the one side, Hidalgo "does not have a career at the national level and is a man's heir," said Gael Sliman, a political analyst with the French polling agency BVA.
On the other side, he said, Kosciusko-Morizet has "huge political resources, a career at the ministerial level, and is quite young, so she has a career in the making. But she is penalized by an anti-Kosciusko-Morizet rebellion in her own party."
Yet she told The AP that she still believes in a possible victory.
"Parisians want some change," Kosciusko-Morizet said while savoring a chocolate given by the shopkeeper in the touristed Montmartre neighborhood where she was campaigning. "Paris needs ... more security, more cleanliness in the streets, and to be the city of the avant-garde that reflects its reputation and history."
Kosciusko-Morizet, who comes from a family of well-connected politicians, tried to break her bourgeois image by adopting a more casual look, with loose wavy hair. But she also made some spectacular blunders, for instance when she spoke of the "charm" of the Parisian metro. The comment set off a flood of mockeries from subway commuters forced to deal with often-overcrowded, bad-smelling trains.
Both have tried to spice up their programs. Hidalgo wants to use a former railway that surrounds Paris — and even its tunnels — to create places for urban art or mushroom and fish-breeding farms. Kosciusko-Morizet proposes to convert unused "ghost" stations of the Paris metro — currently closed to the public — into gyms, swimming pools or nightclubs.
Hidalgo benefits from the successful projects carried out by Mayor Delanoe, such as the Velib bike-sharing and Autolib auto-sharing services, and the creation of a beachfront each summer on the banks of the Seine.
But Kosciusko-Morizet says the Socialists in charge of Paris for the past 13 years have failed to make Paris attractive to young people, and she wants to change that.
"There's now a whole generation dreaming of living abroad, starting a business in London, being an artist in Berlin," she said.
She wants more stores to be open on Sunday, especially in tourist zones and luxury shopping streets — while Hidalgo says she'd stick to the traditional day of rest for employees.
Hidalgo benefits from Paris' system of indirect voting, in which the mayor is chosen by the 163 members of the City Council. Voters choose council members based on party lists in Paris' 20 districts, and Hidalgo's Socialists are very likely to be ahead in some of the most populated neighborhoods.
Image will also play a role.
According to surveys, Kosciusko-Morizet is mostly perceived as "dynamic" and "combative," said Yves-Marie Cann, political analyst with the CSA polling agency. Hidalgo's main assets are her ability to be "attentive to Parisians" and to unite people, and she is considered "a nice person," he said.
Such qualities may be just what it takes to become "Madame le maire."