The 39-year-old suspected attacker killed at Paris' Orly airport on Saturday after trying to wrestle away a soldier's weapon had already crossed authorities' radar for suspected Islamic extremism.
Paris prosecutors said the suspect's house was among scores searched in November 2015 in the immediate aftermath of ISIS-led suicide bomb-and-gun attacks that killed 130 people in Paris. Those searches targeted people with suspected radical leanings.
The alleged attacker said that he was there "to die for Allah" and dropped a bag on the floor containing a can of gasoline, according to prosecutors.
The prosecutor's office said its anti-terrorism division was handling the investigation and had taken the attacker's father and brother into custody for questioning.
A French official connected to the investigation confirmed French media reports identifying the attacker as Ziyed Ben Belgacem.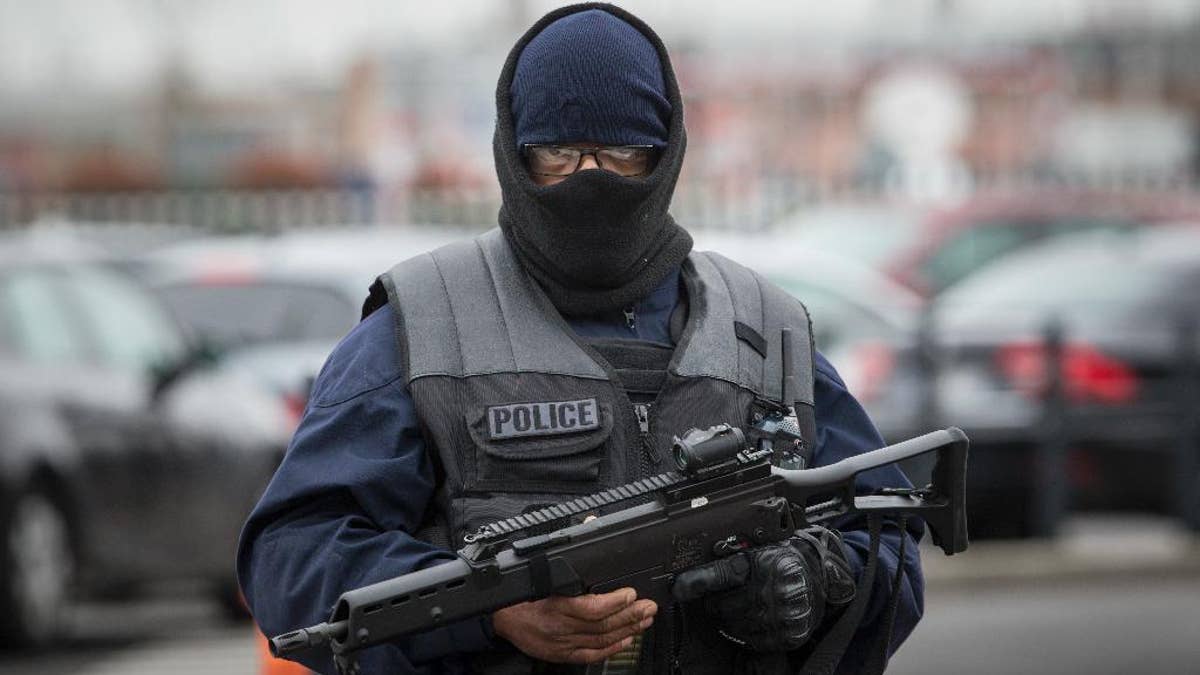 PARIS IMF LETTER BOMB: POSSIBLE LINK TO FAILED GERMAN BOMB INVESTIGATED
French Defense Minister Jean-Yves Le Drian said the attacker assaulted three Air Force soldiers patrolling the airport. He said the soldier who was attacked managed to hold on to her rifle and the two soldiers she was with opened fire to protect her and the public. Soldiers fired eight rounds in all at the attacker.
No one else in the busy terminal was hurt, but thousands of travelers were evacuated and flights were diverted to the city's other airport.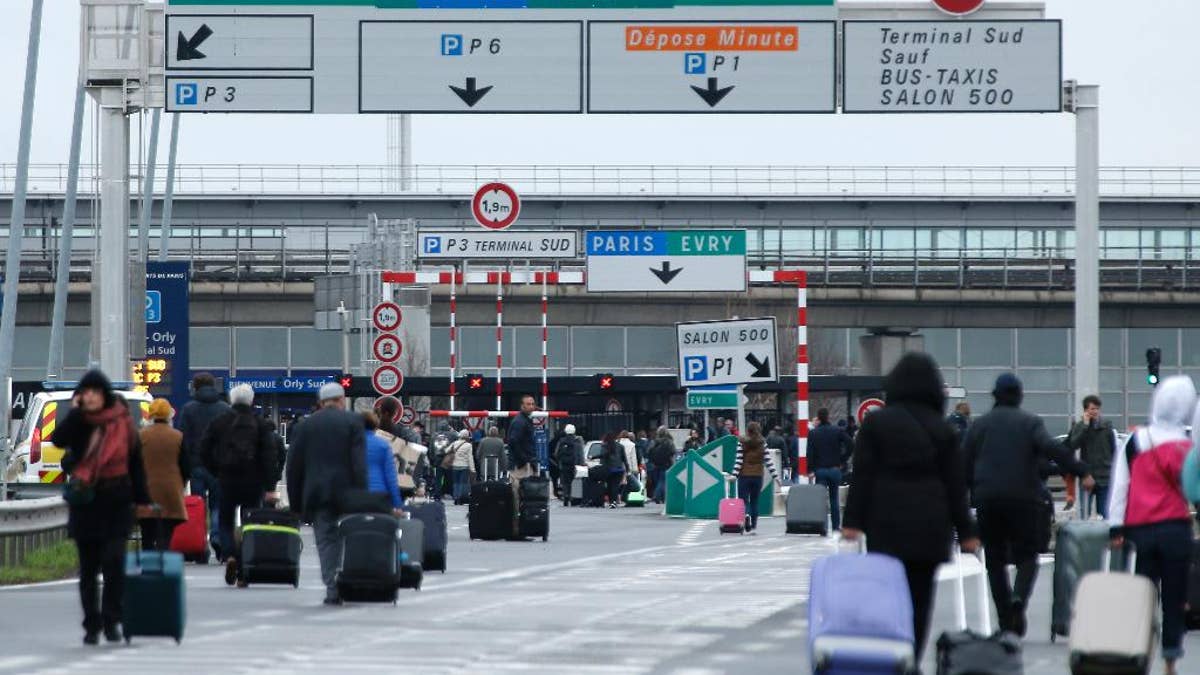 A spokesman for the military force that patrols public sites in France told BFM television the soldier attacked was "shocked" but uninjured after the "very violent aggression" by a man who was quickly shot dead by two of her fellow patrolmen.
French President Francois Hollande ruled out any link between Saturday's attack and the upcoming French presidential election in April and May, noting that France has been battling the threat of extremism for several years.
He said the attack shows that France's policy of having military patrols guarding public sites "is essential," and that the nation "must remain extremely vigilant."
Interior Minister Bruno Le Roux said the man was linked to a carjacking about 90 minutes earlier in a northern Paris suburb.
In that incident, the Paris police office said, a man fired birdshot at officers who stopped him during a traffic stop, wounding one in the face. He then fled and stole a woman's car after threatening her with a weapon. The car was found near Orly.
A police source described the man as a radicalized Muslim but did not identify him by name, according to Reuters.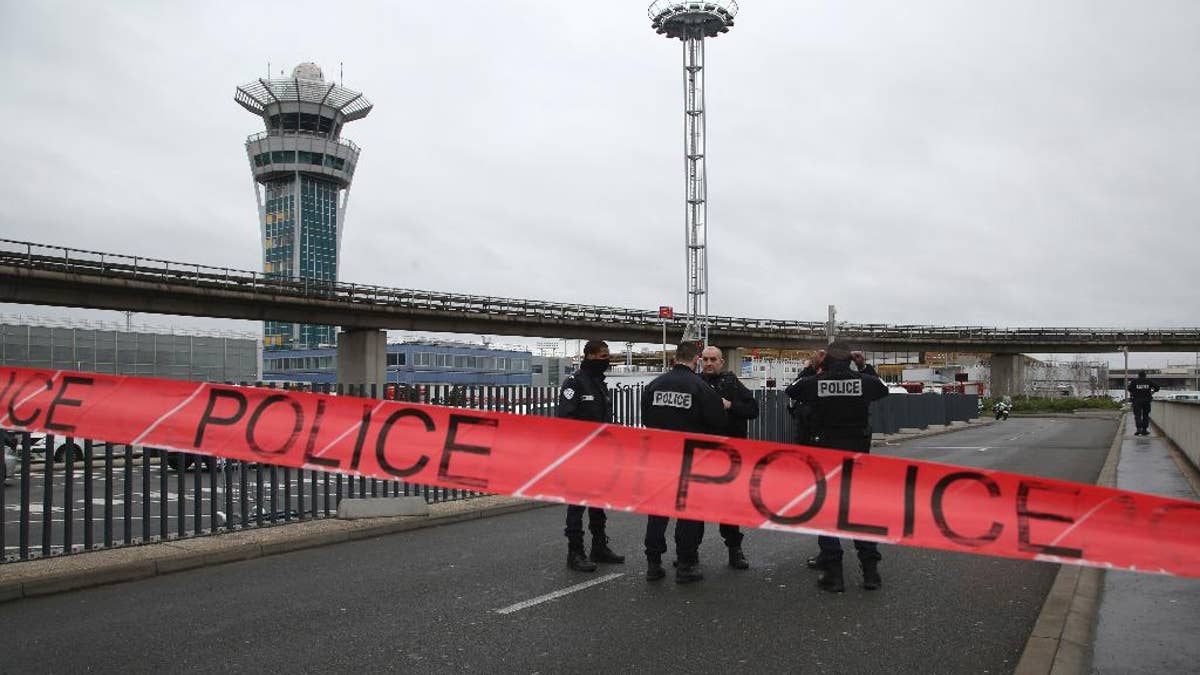 French national police said that only one man was involved in the airport attack and denied reports of a possible second attacker.
Witnesses described a chaotic scene at the airport.
A witness identified only as Dominque told BFM television: "The soldiers took aim at the man, who in turn pointed the gun he had seized at the two soldiers."
FRANCE HIGH SCHOOL SHOOTING: ARMED TEEN ARRESTED, 10 HURT
A French journalist on a flight that landed from Nice told France-Info radio passengers were kept on the plane and weren't allowed to disembark.
A national police official said the soldiers are part of the Sentinel special force installed around France to protect sensitive sites after a string of deadly Islamic extremist attacks.
Police warned visitors to avoid the airport while the police operation was underway. Emergency vehicles surrounded the airport as confused passengers gathered in parking lots, and the elite RAID special police force worked to secure the airport.
An airport authority official said flights to and from Orly were being redirected to Charles de Gaulle airport.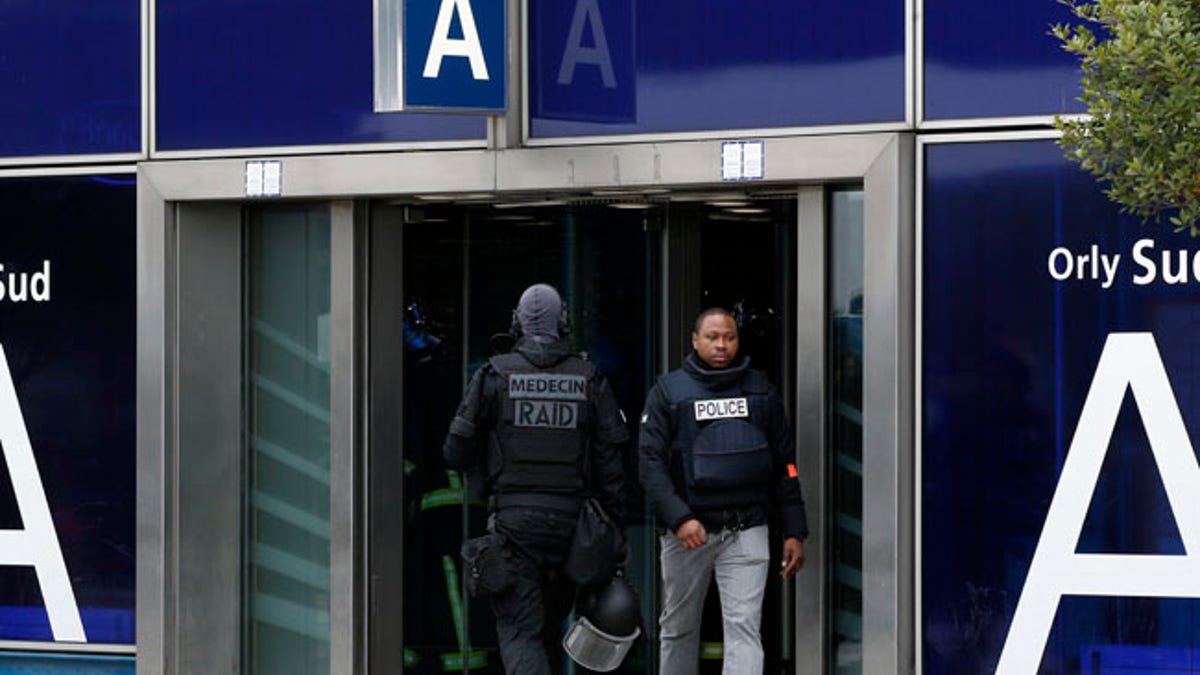 Orly is Paris' second-biggest airport behind Charles de Gaulle, serving domestic and international flights, notably to destinations in Europe and Africa.
The shooting came after a similar incident last month at the Louvre Museum in which an Egyptian man attacked soldiers guarding the site and was shot and wounded.
The incident also comes just days after a letter bomb exploded at the International Monetary Fund offices in Paris. One person was injured.
The attack further rattled France, which remains under a state of emergency after attacks over the past two years that have killed 235 people.
The Associated Press contributed to this report.