Pakistan foils capital bomb plot; missiles kill 3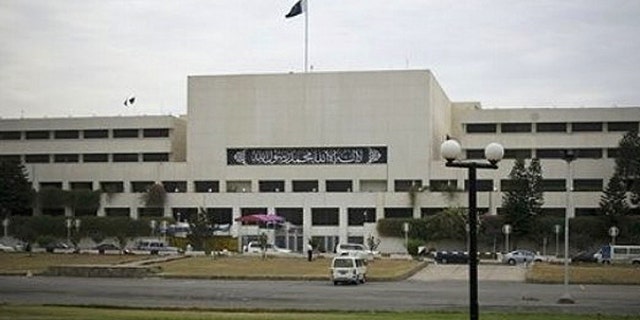 ISLAMABAD – Police arrested two would-be suicide bombers planning to attack a mosque and a government building in Pakistan's capital Friday, as local officials said another suspected U.S. missile strike near the Afghan border killed three alleged insurgents.
Al-Qaida and Taliban militants seeking to topple Pakistan's U.S.-allied government have carried out scores of attacks across the country, killing thousands. The military has responded by launching offensives in the remote northwest where the insurgents are based, and the U.S. has increased its barrage of missile attacks on those strongholds out of reach of the Pakistani army.
Police officer Bin Yamin said the detained men were linked to the Pakistani Taliban in the South Waziristan region, where the army has been fighting the militants since last year.
One of the men was arrested wearing an explosives vest and was on his way to attack an Islamabad mosque during Friday prayers when officers seized him, Yamin said. He did not say why the militants — who espouse a hard-line interpretation of Islam — would target the mosque.
Most attacks have been on government, security or Western targets, though there have been seemingly indiscriminate blasts in public places presumably to spread terror and undermine confidence in the government.
Questioning of the suspects indicated that the plotters were also planning to hit government buildings, possibly even Parliament, Yamin added.
Interior Minister Rehman Malik said authorities learned about a possible suicide bombing at Parliament or nearby buildings Thursday night and quickly increased security in the area.
"We took all the required measures without creating a panic," Malik told the state-run Pakistan Television.
The last major terrorist attack in Pakistan's capital was in October last year, when a suicide bomber dressed as a security guard killed five U.N. staffers at the World Food Program's office in Islamabad. The government has credited the relative lull to heightened intelligence gathering and increased police checkpoints around the city.
Also Friday, suspected U.S. missiles fired by an unmanned plane hit a vehicle carrying three alleged militants in a northwestern Taliban stronghold, two intelligence officials said.
A pair of missiles hit the moving vehicle in Pir Kali village in North Waziristan, the officials said. The area is home to a mix of Afghan and Pakistani Taliban fighters who target American and NATO forces in Afghanistan.
Taliban fighters and local tribesmen fired at three more drones still hovering after the attack, but their assault rifles could not hit the aircraft. The two Pakistani officials spoke on condition of anonymity because they were not authorized to talk to the media on the record.
The U.S. has ramped up its drone attacks in Pakistan's lawless border region, launching more than 100 missile strikes this year in an attempt to kill key Taliban and al-Qaida figures and weaken their capacity to attack American and NATO forces in Afghanistan. American officials rarely acknowledge the missile strikes, which Pakistan officially condemns as a violation of its sovereignty and critics say amount to an assassination campaign that may violate international law.
Most of the strikes have been in North Waziristan, where Islamist militants run terrorist training camps and plot attacks in Afghanistan.
Washington has pressured Pakistan to launch a military offensive in North Waziristan to bring the border region under control. But the army has said its forces are stretched thin fighting the Taliban in other areas and dealing with the aftermath of the country's worst floods, which have driven about 7 million people from their homes.
Pakistan also turned down a U.S. request last month to expand the American aerial surveillance areas — now limited to the northwestern tribal areas — to include the southwestern city of Quetta, where Taliban leader Mullah Mohammed Omar and other top Afghan Taliban leadership are reported to reside.
A senior Pakistani official, who spoke on condition of anonymity to discuss sensitive strategic matters, said the technical aid the U.S. provides Pakistan by flying the drones and other aerial surveillance over the vast, sparsely populated mountainous regions is welcome, but buzzing a heavily populated city like Quetta is a "red line we will not allow them to cross."
The official said the U.S. did not ask for expanded permission to target militants with armed drones in Quetta, but he says Pakistani officials assumed that would be next on the American wish list if Pakistan assented to the expanded surveillance.
___
Associated Press writers Rasool Dawar in Mir Ali, Pakistan, and Kimberly Dozier in Washington contributed to this report.