Over-Sized Five Foot Monitor Lizard Roams California Condo Complex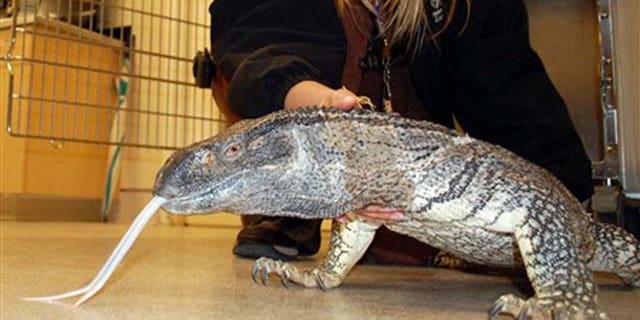 A five- foot monster- like lizard was caught lingering in a condo complex in Riverside, Calif. on Tuesday.
The reptile was captured by a brave animal control officer and assistance from the police, the Press-Enterprise news outlet reported.
The officer Jenny Selter, who works at the Riverside County Department of Animal Services, used a noose placed on a catch pole to capture the 45 pound beast, which brawled and swung its enormous tail side to side. Once finally in the truck, it was placed in a slot usually reserved for large dogs.
The lizard is assumed to be a pet that probably escaped from the owner's residence, John Welsh told the Press-Enterprise.
These animals are traced back to Africa and are legal possessions in the state of Calif., said Welsh.
The animal, known as the Black throated, are carnivorous and are sold in stores for about $100. Welsh mentioned how this particular lizard was extremely well behaved, compared to others that they have had.
He hopes the owner comes soon to pick up his cold blooded pet.
You can reach Alexandra Gratereaux at: Alexandra.Gratereaux@foxnewslatino.com
Follow us on twitter.com/foxnewslatino
Like us at facebook.com/foxnewslatino