Our American Dream: Serving Our Country and Making it Taste Good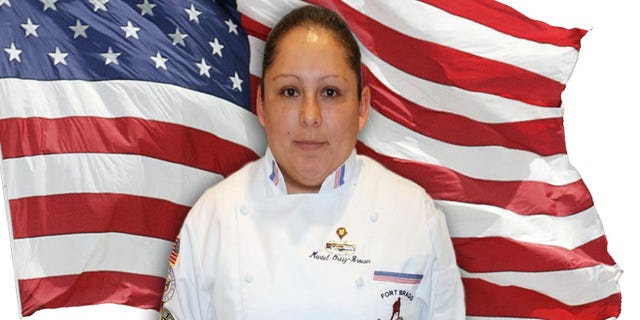 Across the United States, in all fields of endeavor, Latinos are working to uphold their place in American society. Fox News Latino is proud to present "Our American Dream" – a series of snapshots and profiles of Latino success stories.
Sgt. Marfel Ortíz-Brown is a member of the competitive Fort Bragg Culinary Team.
Earlier this month, she competed against more than 200 military chefs from around the world taking home three individual medals including a bronze medal for dessert making at the annual U.S. Army Culinary Competition in Fort Lee, Va.
The dessert pastry specialist and her team of 16 Fort Bragg chefs made their way through three major stages of the competition that included: field kitchen cooking, student skills, and ice sculpting.
Sgt. Marfel Ortíz-Brown has made a living out of using little rations to create big tastes.
In 2007, during her deployment to Afghanistan, she found that the ingredients for one month's worth of rations were limited to only chicken, rice, and beans.
"At the beginning it was hard because that's all we had," she said. "After a while, it's tough to eat the same thing every day so I would start to get creative."
Ortíz-Brown mixed it up a bit making chicken fried rice, chicken fajitas, and sometimes an interpreter would head out to the local markets to pick up fresh produce such as potatoes. On occasions, she'd take personal food requests from what she calls "her guys" before they headed out to combat.
"Food and letters are a big deal," Ortíz-Brown told Fox News Latino. "It helps people miss home a just a little less."
She began her culinary career in the Armed Services in late 2001 when she became the first in her family to serve in the U.S. Army.
At that time, she was given two options; either be a mechanic or become a cook.
"At least I knew how to peel potatoes and cut vegetables," she said. "There were more opportunities with their culinary program."
One day one of her staff Sergeants encouraged her to try out for a culinary competition.
"I was hesitant but my sergeant encouraged me and I made the team," Ortíz-Brown says. "It takes detail, patience, and just experience with the food."
The 32-year-old Bolivian born soldier never considered a career in cooking, in fact, she says that wasn't very good.
"I remember the first time I cooked macaroni and cheese and I overcooked it," Ortíz-Brown said. "That wasn't exactly the food mom cooked."
Today, after three more years of service, Ortíz-Brown told Fox News Latino she plans on opening her own bakery in North Carolina.
"The food will include Bolivian Muenuelos, empanadas, cupcakes, little fruit cups, cookies and more," she explained. "Though, I still haven't thought of a name yet."
She moved to the United States from Bolivia with her mother and brother in 1995.
Her mother was a nurse studying to be a dental assistant. Ortíz-Brown is grateful for life in the United States.
"We had more options and opportunities to do whatever we wanted in the United States," Ortíz-Brown told Fox News Latino.
And she is now serving her country and, literally, helping to sustain the troops.
Back in Afghanistan she remembers going all-out for that the most American of holidays: Thanksgiving.
"We made sure the Soldiers had turkey, mashed potatoes, fresh shrimp, corn on the cob, pies and cakes," she said. "We hung a bunch of festive decorations in the dining tent to make it look nice and comfortable for the Soldiers."
The sweet taste of home.

Contact Bryan Llenas at Bryan.Llenas@foxnewslatino.com or follow him on twitter @LlenasLatino.