Oscar Pistorius files appeal to challenge increased prison sentence for murder of his girlfriend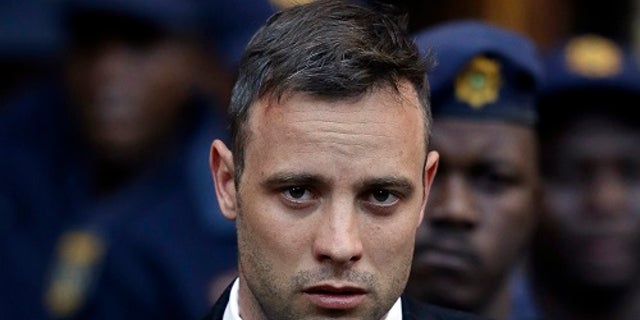 Oscar Pistorius, the disgraced South African Paralympic champion, filed an appeal Tuesday to challenge his prison sentence which was doubled last month for the 2013 murder of his girlfriend Reeva Steenkamp.
Reuters, citing court documents, reported that Pistorius filed an application to Constitutional Court, South Africa's highest court, requesting to overturn the 13 years and five months increased prison sentence.
South Africa's Supreme Court of Appeal upheld an appeal by prosecutors against Pistorius' original six-year sentence for shooting Steenkamp multiple times in his home in the pre-dawn hour of Valentine's Day 2013. Pistorius claimed he mistook the 29-year-old model and reality TV star for an intruder and was initially convicted of manslaughter by trial judge Thokozile Masipa.
OLYMPIC SPRINTER OSCAR PISTORIUS' PRISON SENTENCE MORE THAN DOUBLED TO 13 YEARS, 5 MONTHS
Prosecutors argued Pistorius' original six-year sentence was too lenient and the Supreme Court agreed, saying in a full written ruling released later that "the sentence of six year's imprisonment is shockingly lenient to a point where it has the effect of trivializing this serious offense."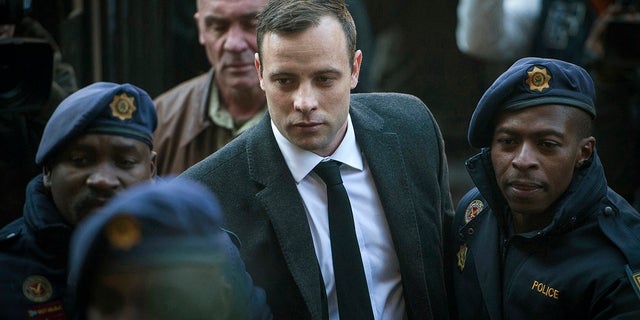 The Supreme Court also said that the blade runner "displays a lack of remorse, and does not appreciate the gravity of his actions."
The new sentence of 13 years and five months took into account the one year and seven months Pistorius served in prison and under house arrest after his initial manslaughter conviction.
OSCAR PISTORIUS INJURED IN PRISON FIGHT OVER TELEPHONE: REPORT
The new sentence was backdated to start on the day he began his murder sentence, on July 6 last year.
Pistorius, 31, must serve at least half of the 13 years and five months -- nearly seven years -- before he can be considered for parole in 2023. He has served a year and five months of his murder sentence. The athlete was not in court at the time of the appeal hearing.
Steenkamp's parents told The Associated Press after the hearing that they felt there has been "justice" for their daughter.
Earlier this month, the BBC reported Pistorius was injured in a prison fight over the use of a public phone. He reportedly "sustained a bruise" during the altercation. Local media reported the fight broke out after the Paralympic champion was using the phone for too long. Pistorius was currently imprisoned in Atteridgeville Correctional Centre in the South African capital Pretoria, a special-needs prison tailored to prisoners with disabilities, who are serving a maximum of six years.
The Associated Press contributed to this report.