Officials fear many others may be dead after passenger plane crashes in Nigeria's largest city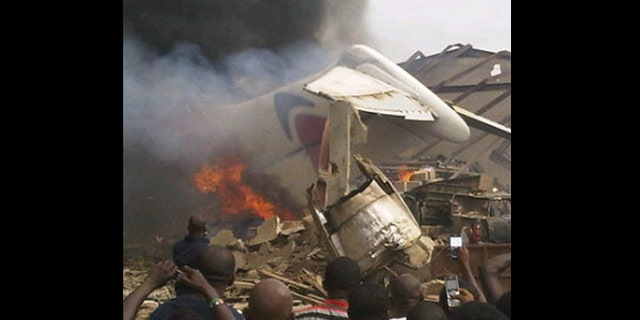 LAGOS, Nigeria – LAGOS, Nigeria-- Emergency workers in Nigeria fought fires and searched for corpses through the night in a neighborhood that an aging American-built airliner plowed into, killing all 153 on board. Rescue officials said Monday they fear many people may have perished on the ground too.
A Nigeria Red Cross report said that 48 bodies had been recovered so far, with more being dug out from the rubble.
The pilots reported engine trouble before the crash. Two years ago, the same Boeing MD-83 had loss of engine power due to a bird strike, according to an aviation database.
On a clear Sunday afternoon, the Dana Air jetliner crashed into businesses and crowded apartment buildings near Lagos' Murtala Muhammed International Airport, the worst air disaster in Nigeria in nearly two decades.
"The fear is that since it happened in a residential area, there may have been many people killed," said Yushau Shuaib, a spokesman for Nigeria's National Emergency Management Agency.
The cause of the crash remained unclear. The pilots radioed to the Lagos control tower just before the crash, reporting engine trouble, a military official said. The official spoke on condition of anonymity as he was not authorized to speak to journalists. Rescue workers searched for the aircraft's black box recorders where flight data is stored, said Harold Demuren, the director-general of the Nigerian Civil Aviation Authority.
Demuren said the Nigerian registration number of the plane was 5NRAM. Aviation databases show the plane was exported to Nigeria in early 2009. It was first delivered in 1990 with the U.S. registration number N944AS to Alaska Airlines and it suffered two minor incidents while in the Seattle-based airline's service, according to databases of the Federal Aviation Administration and the Aviation Safety Network. On Nov. 2, 2002, the plane made an emergency diversion due to smoke and electrical smell in the cabin, and on Aug. 20, 2006, the plane was evacuated after landing at Long Beach, California because of smoke in the passenger cabin.
Boeing said in a statement on its website that the company is ready to provide technical assistance to the Civil Aviation Authority on Nigeria through the U.S. National Transportation Safety Board.
Bobbie Egan, spokeswoman for Alaska Airlines, said she had no information on the aircraft that may have been used several years ago by the airline and referred calls to Alaska's corporate communications office, which was not yet open.
On April 19, 2010, the made an emergency landing at Lagos due to loss of engine power after a bird strike following takeoff, according to the Aviation Safety Network.
The aircraft appeared to have come down Sunday on its belly onto the dense neighborhood that sits along the typical approach path taken by aircraft heading into Lagos' Murtala Muhammed International Airport. The plane tore through roofs, sheared a mango tree and rammed into a woodworking studio, a printing press and at least two apartment buildings before stopping. The plane was heading to Lagos from Abuja, the capital, when it went down.
A white, noxious cloud rose from the crash site that burned onlookers' eye. Pieces of the plane were scattered around the muddy ground.
While local residents helped carry fire hoses to the crash site, the major challenges of life in oil-rich Nigeria quickly became apparent as there wasn't any water to put out the flames more than three hours later. Some young men carried plastic buckets of water to the fire. Fire trucks, from the very few that are stationed in Lagos state with a population of 17.5 million, couldn't carry enough water. Officials commandeered water trucks from nearby construction sites, but narrow, crowded roads prevented them from reaching the crash site.
The dead included at least four Chinese citizens, the official Chinese news agency Xinhua reported late Sunday, citing Chinese diplomats in Nigeria. Officials at the Chinese embassy in Nigeria could not be reached for comment by the AP. Two of the crash victims were Lebanese, according to state-run Lebanon's National News Agency. The NNA identified them as Nadim Chediac, an architect who has a Lebanese father and Nigerian mother, and Roger Awwad, an investor.
Nigeria, home to more than 160 million people, has a history of major aviation disasters, though in recent years there hasn't been a crash. In August 2010, the U.S. announced it had given Nigeria the Federal Aviation Administration's Category 1 status, its top safety rating that allows the West African nation's domestic carriers to fly directly to the U.S.
But many travelers remain leery of some airlines. The country is beset by government corruption and mismanagement.
On Saturday night, a Nigerian Boeing 727 cargo airliner crashed in Accra, the capital of Ghana, slamming into a bus and killing 10 people. The plane belonged to Lagos-based Allied Air Cargo.
Lagos-based Dana Air has five aircraft in its fleet and runs both regional and domestic flights. It has announced on its website that all Monday flights have been canceled. Local media reported a similar Dana flight in May made an emergency landing at the Lagos airport after having a hydraulic problem.
At the crash site Monday, police with cadaver dogs searched for bodies inside the wreckage. Overnight officials brought in a large crane from a local construction company to lift pieces of debris away. They also brought blow torches to cut through what remains of the plane. The debris still smoldered Monday morning. Some wore masks to try and protect themselves from the stench of the dead.
They used the crane from the construction site to lift the tail of the aircraft. The metal shrieked as it lifted skyward and was dropped down. Investigators then climbed ladders to begin to look at its tail.
Nigeria has tried to redeem its aviation image in recent years, saying it now has full radar coverage of the entire country. However, in a nation where the state-run electricity company is in tatters, the power grid and diesel generators sometimes both fail at airports, making radar screens go blank.
Sunday's crash appeared to be the worst since September 1992, when a military transport plane crashed into a swamp shortly after takeoff from Lagos. All 163 army soldiers, relatives and crew members on board were killed.