Official says 19 passengers killed in Pakistan bus accident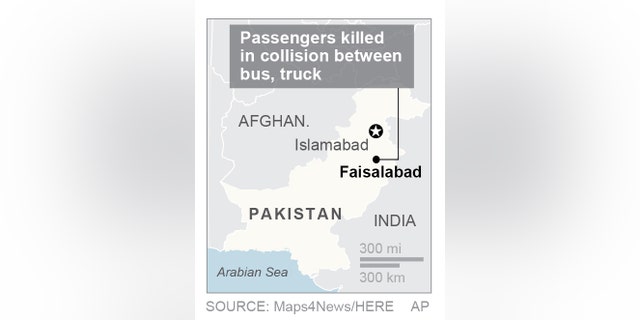 NEWYou can now listen to Fox News articles!
MULTAN, Pakistan – A head-on collision between a passenger bus and truck killed at least 19 passengers, including women and children, in Pakistan's eastern Punjab province on Wednesday, a rescue official said.
Several people were also injured in the accident near the city of Faisalabad in Punjab province, said the official, Mohammad Naseem.
"We have transported all the dead and injured to a hospital," he said, adding some of the injured were in critical condition.
Naseem said the bus was apparently speeding at the time but officers were still investigating to determine the cause of the crash.
TV footage showed images of the badly destroyed bus.
Deadly accidents are common in Pakistan due to bad road infrastructure and a disregard of traffic laws.