Off-duty police officer, mom hailed as hero for taking out would-be robber at Mother's Day event near school
An armed, off-duty Brazilian military police officer was hailed as a hero Sunday after surveillance footage showed how she foiled a robbery on a family near a school.
Katia da Silva Sastre, 42, was standing near a group of women and children outside a Sao Paulo private school when the gunman, identified as 21-year-old Elivelton Neves Moreira, attempted to rob them at gunpoint. The women were celebrating a Mother's Day event.
Little did the gunman know, Sastre was carrying a pistol of her own and shot Moreira three times in the chest, according to the Daily Mail. The footage showed Moreia falling backward onto the street and kicking the gun out of his reach.
Moreia later died in the hospital, according to The Sun.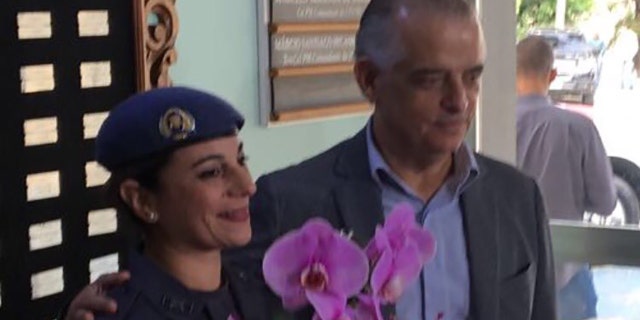 Sastre was attending the event with her daughter when the gunman approached.
"I didn't know if he was going to shoot the kids or the mothers or the security guard at the school door," she said. "I just thought about defending the moms, the children, my own life and my daughter's."
Sao Paulo Governor Marcio Franca visited Sastre at her police station and honored her for the act of bravery.
"I went earlier to the 4th BAEP in the east of Sao Paulo to honor a very special mother: Corporal Katia Sastre. Her courage and precision saved mothers and children, yesterday at the door of a school," Franca wrote on Twitter.
Sastre is the mother of two girls and has worked on the police force for 20 years.
"She pushed the children out of the way and approached the thief. She shoots, the boy shoots, the boy tries to shoot at her leg," Brazilian public security secretary Maggie Alves said. "She immobilizes the boy and calls the [emergency services]. It was a perfect procedure from a technical point of view."