Obama to Meet with Hispanic Pols to Talk Immigration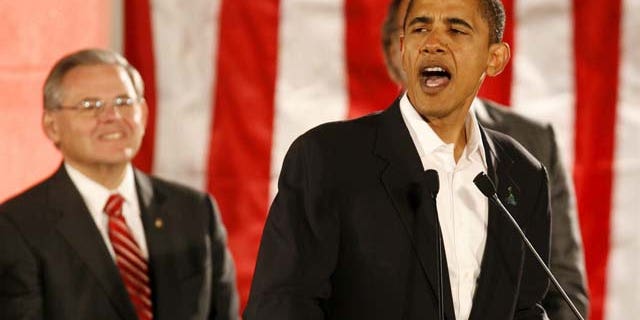 Sen. Robert Menéndez and other members of the Congressional Hispanic Caucus will be meeting with President Obama this afternoon to discuss the need for comprehensive immigration reform and the Dream Act.
Menéndez said in a text message to Fox News Latino this morning that he and Reps. Nydia Velázquez, D-NY and Luis Gutiérrez, D-Ill, will meet with the president at 2:45 p.m. to discuss immigration.
Soon after Democrats lost control of the House of Representatives in the mid-term elections, Menéndez, a New Jersey Democrat, has stressed that the likelihood is small that the new Congress will pass immigration reform legislation that would provide illegal immigrants who meet certain criteria with a path to legalization.
He says that the only chance that legislation could pass that would give illegal immigrants an opportunity to legalize their status would be to take a bill up now, during the lame duck session.
A White House official said the meeting between the Hispanic lawmakers and Obama "will be an opportunity to discuss DREAM Act and Comprehensive Immigration Reform."
The official said "the President has been consistent and clear that the immigration system is broken, and it must be fixed at the earliest possible opportunity."
The official added that the DREAM Act, which would allow undocumented students to attend college at in-state tuition rates, "is important to both our national security and our economy."
Those who want strict immigration enforcement assailed the Hispanic Congressional Caucus's efforts to push for lame duck action on immigration.
They vow to fight any effort to grant "amnesty" to illegal immigrants.
"They're making a last ditch Hail Mary push," said Dan Stein, executive director of the Federation for American Immigration Reform in Washington D.C. "Making a last ditch 'Hail Mary' push here."
"It's a miniature amnesty," Stein said of the DREAM Act. "It's broadly drafted to include people up to 35 years old, trying to use sympathies to get support for this."
Follow us on twitter.com/foxnewslatino
Like us at facebook.com/foxnewslatino