NZ earthquake toll at 98 dead, 226 missing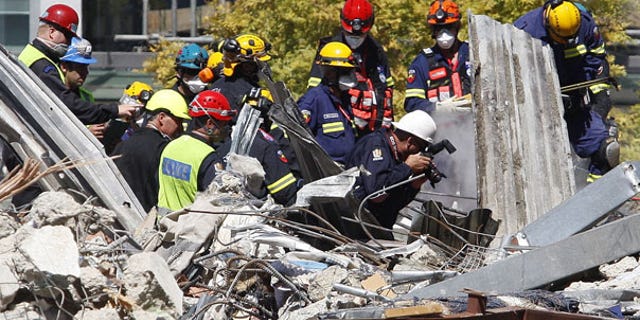 CHRISTCHURCH, New Zealand – Hopes faded of finding more survivors Thursday in the collapsed downtown towers of New Zealand's quake-shattered Christchurch, as officials said the death toll rose to 98 with grave fears for many of the 226 missing.
Police said up to 120 bodies may still lie trapped in the tangled concrete and steel that was the Canterbury Television or CTV building, where dozens of students from Japan, Thailand, China and other Asian countries were believed buried when an English-language school collapsed along with other offices.
"The longer I don't know what happened, the longer my agony becomes," said Rolando Cabunilas, 34, a steel worker from the Philippines whose wife, Ivy Jane, 33, was on her second day of class at the school when the quake struck. She hasn't been heard from since.
"I can't describe it — it's pain, anger, all emotions," he said.
The official death toll from Tuesday's 6.3-magnitude temblor stood at 98, Police Superintendent Dave Cliff said. An additional 226 people were listed as missing, and Prime Minister John Key said there were "grave fears" that many of them did not survive.
"We are very fearful tonight that the death toll could be much greater than any of us have ever feared," Key said, adding that there were dozens of "international people that are caught up in this tremendous tragedy.
Rescue efforts so far had focused on the CTV building and a handful of other major office complexes that crumbled downtown, but work at those sites was shifting to the recovery of bodies while the remaining rescue efforts fanned out further afield.
The damaged buildings in and around Christchurch numbered in the thousands, including many of the older structures in Lyttelton, a port town just southeast of the city and closer to the quake's epicenter. Residents there wandered through the dusty, brick and glass-covered streets, pausing to offer each other hugs and ask the ubiquitous question: "How's your house?"
"It was just horrific," 63-year-old teacher's assistant Kevin Fitzgerald said of Tuesday's quake, which sent him scurrying under a desk along with a student at a school as the building undulated menacingly.
"I thought the devil was coming up out of the earth," he said.
The popular Ground deli and cafe was in ruins, huge slabs of its walls lying on the sidewalk in a jumbled pile. Glass shopfront windows had been blown out.
In Christchurch, hundreds of foreign specialists — from the U.S., Britain, Japan, Singapore and Taiwan — arrived to bolster local police and soldiers and allow teams to broaden their search to smaller buildings not yet checked.
"Now we've got the capability of going out and doing searches in areas where there may still be people trapped that hitherto we haven't been able to address," Civil Defense Minister John Carters said.
Key has declared the quake a national disaster, and analysts estimate insurance losses could be as much as $12 billion. That would be the most from a natural disaster since Hurricane Ike hit Texas and Louisiana in 2008, costing insurers $19 billion, according to the Insurance Information Institute.
The water system for Christchurch and surrounding areas was in disarray.
Christchurch Mayor Bob Parker said water was still out for half other the city and that it might be contaminated for the other half. All residents were urged to assume that tap water is unsafe, and to boil it before using it to drink, wash or cook because of the risk of disease.
Fourteen water tankers have been dispatched around the city for people to fill buckets or other containers, and residents were urged not to flush toilets or use showers.
Power was restored to 75 percent of the city, but it could take weeks to repair supplies to the rest, including the hardest-hit regions, said Roger Sutton, the chief executive of supplier Orion.
School classes in the city were suspended, and residents advised to stay home as rescue and recovery efforts continued.
Tuesday's quake was the second major temblor to strike the city in the past five months.
It was less powerful than the 7.1 temblor that struck before dawn on Sept. 4, damaging buildings but killing no one. Experts said Tuesday's quake was deadlier because it was closer to the city and because more people were about.
___
Associated Press writers Steve McMorran and Ray Lilley in Wellington, New Zealand, and Kelly Doherty in Sydney contributed to this report.