North Korea's anti-US souvenirs, posters reportedly disappearing in wake of Trump-Kim summit
Maybe the "American imperialists" aren't so bad after all.
North Korea, which has routinely blasted the U.S. in its government propaganda, appears to be taking a lighter tone in messaging that has emerged in the wake of this month's historic summit between President Trump and dictator Kim Jong Un.
"North Korea, for decades, has had the virulent anti-U.S. propaganda," Gordon Chang, a North Korea analyst, told "'Fox & Friends First" on Monday. "It's all stopped."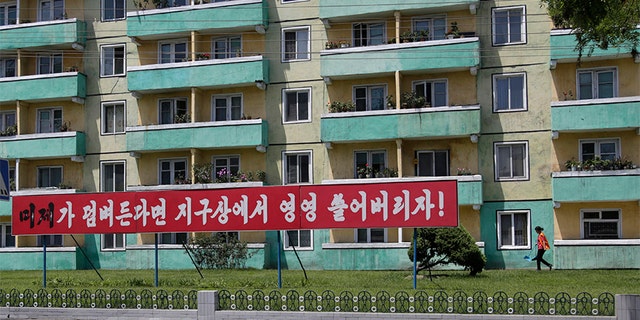 Western companies that offer guided tours in the Hermit Kingdom say from the DMZ to Pyongyang, anti-American souvenirs, stamps and postcards have been disappearing from store shelves.
"They're always very popular, not very subtle, and, as of now, have all been removed," Simon Cockerell, the general manager at Koryo Tours, told Reuters.
Another tour manager told the news organization that "they've shifted the focus from anti-Americanism to improving agriculture, sports and boosting the local economy.
"It's not just at the DMZ, all the anti-American posters I usually see around Kim Il Sung Square and at shops [in Pyongyang], they've all just gone," said Rowan Beard of Young Pioneer Tours. "In five years working in North Korea, I've never seen them completely disappear before."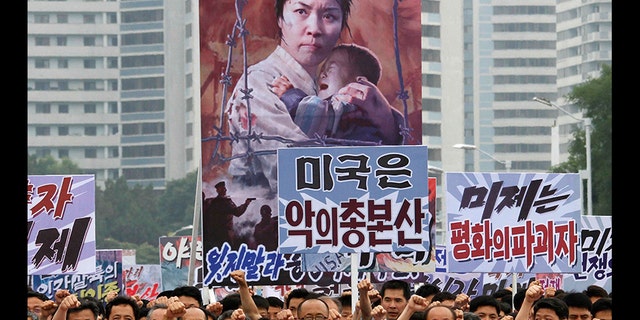 North Korea on Monday also opted not to hold an "anti-U.S. imperialism" rally marking the anniversary of the start of the Korean War. In an event last year which reportedly drew 100,000 people to Pyongyang's Kim Il Sung Square, attendees held signs with the messages "Decisive revenge" and "Death to the American imperialists."
"Trump is a warmonger and a backstreet gangster," Ri Il Ung, a 24-year-old student at Pyongyang Mechanical University, had told the Associated Press at that event. "It's quite ridiculous that such a person could become a politician."
For now though, it appears that some opinions in North Korea have changed.
"All the anti-U.S. trinkets have been now replaced with trinkets now showing friendship," Chang said.
The Associated Press contributed to this report.