North Korean ship used to illicitly transport coal is seized over sanctions violation, US announces
NEWYou can now listen to Fox News articles!
A North Korean cargo vessel used to transport coal -- in violation of international sanctions against the rogue regime -- was seized, the U.S. Justice Department announced Thursday, just hours after the hermit kingdom fired two suspected short-range missiles.
The 17,061-ton vessel, called the Wise Honest, is one of North Korea's largest bulk carriers used to illicitly ship coal from North Korea and deliver heavy machinery to the Hermit Kingdom, officials said. U.S. Attorney Geoffrey Berman said this is the first time a North Korean cargo ship was seized for violating international sanctions.
"This sanctions-busting ship is now out of service," Assistant Attorney General Demers said in a news release. "North Korea, and the companies that help it evade U.S. and U.N. sanctions, should know that we will use all tools at our disposal — including a civil forfeiture action such as this one or criminal charges — to enforce the sanctions enacted by the U.S. and the global community."
JAMES CARAFANO: NORTH KOREAN MISSILE TEST - HERE'S THE CRITICAL THING TRUMP NEEDS TO DO NOW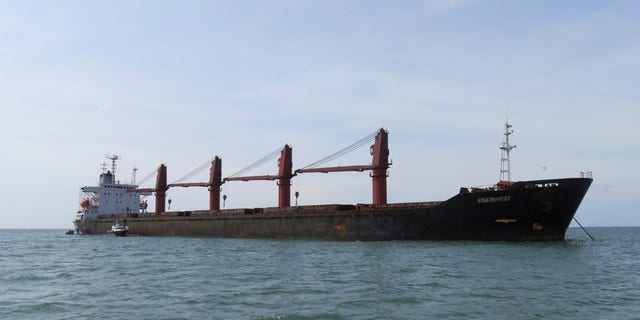 Berman said Thursday that Kim's regime was evading sanctions by "concealing" Wise Honest's origin. The ship was used by Korea Songi Shipping Company between November 2016 and April 2018 to export coal from North Korea in exchange for machinery, court documents stated. Those who worked with the company would allegedly then lie about the origin of the vessel and where the coal came from by listing different countries for its nationality in shipping documentation.
"We are willing and able to deploy the full array of law enforcement tools to detect, deter, and prosecute North Korea's deceptive attempts to evade sanctions," Berman said.
The shipping company would pay for repairs and equipment using American dollars obtained through "unwitting" U.S. financial institutions, which violated sanctions barring North Korean citizens or entities from the U.S. financial system. Foreign maritime authorities intercepted a coal shipment in April 2018, court documents stated, and officials later discovered more than $750,000 in payments were made through American banks.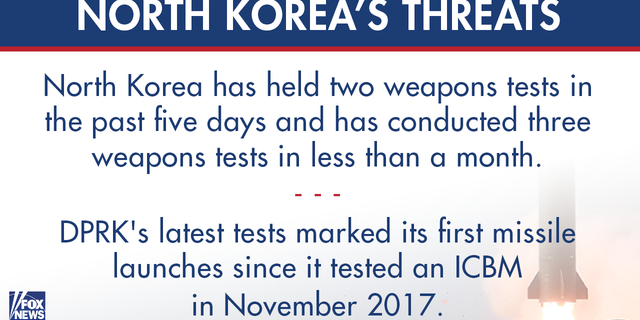 The ship is in U.S. custody as of Thursday and heading to American Samoa.
David Maxwell, a retired Army Special Operations Colonel with more than 20 years served in Asia, said the U.S. had been tracking the vessel.
"The United States has certainly been tracking the Wise Honest, and others, and may have been waiting for it to be in the right location or the right time to have the best political effect. It takes considerable intelligence work and the right assets in the right location to make a seizure like this."
NORTH KOREA FIRES 2 SHORT-RANGE MISSILES, 5 DAYS AFTER PREVIOUS LAUNCH; US TESTS LONG-RANGE MISSILE WITHIN 10 MINUTES
On Thursday, at least one projectile the Hermit Kingdom launched was from the Sino-ri area of North Pyongan province, an area known to have one of North Korea's oldest missile bases where a brigade operates mid-range Rodong missiles, South Korea's military said, adding later that there were two launches from the nearby town of Kusong. The town is the same location where North Korea conducted its first successful flight tests of its Hwasong-12 intermediate-range missile and Hwasong-14 intercontinental ballistic missile, both in 2017.
The U.S. Air Force on Thursday also tested a Minuteman 3 intercontinental ballistic missile from Vandenberg Air Force Base in California as part of a scheduled ICBMs test. Officials said the launch was unrelated to current events.
Trump, who met with North Korean leader Kim Jong Un in late February for the second U.S.-North Korea summit, told reporters at the White House on Thursday that "nobody's happy" about the recent rocket launches. He added that "we're looking" at the situation "very seriously right now."
CLICK HERE FOR THE FOX NEWS APP
Fox News' Jake Gibson and The Associated Press contributed to this report.