North Korea replaces top military brass with younger officials ahead of US summit, reports say
NEWYou can now listen to Fox News articles!
North Korea has reportedly shaken up its military, removing three of its top officials from their posts as the summit between President Trump and dictator Kim Jong Un looms.
It's unclear why Kim would remove his top military brass eight days from the June 12 meeting in Singapore, but analysts told Reuters on Monday that the move will allow Kim to tighten control of the Korean People's Army.
KIM JONG UN TERRIFIED SOMEONE WILL KILL HIM AT SINGAPORE SUMMIT
No Kwang Chol, the first vice minister of the Ministry of People's Armed Forces, replaced Pak Yong Sik as defense chief, while Ri Myong Su was replaced by his deputy Ri Yong Gil, according to Yonhap News Agency. North Korean state media had previously said Kim Jong Gak was replaced by Army General Kim Su Gil as the director of the army's General Political Bureau, according to Reuters.
"If Kim Jong Un is set on making peace with the U.S. and South Korea and dealing away at least part of the nuclear program, he will have to put the KPA's influence in a box and keep it there," Ken Gause, director of the nonprofit research organization International Affairs Group told Reuters.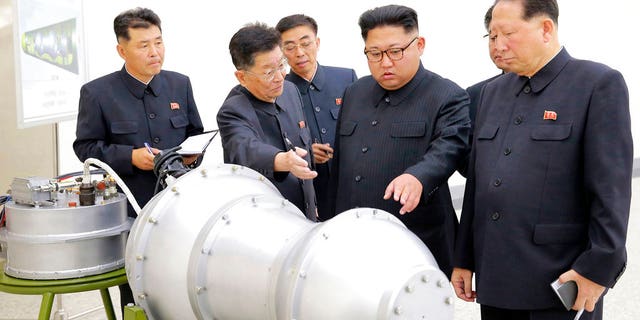 The move could also be about putting younger, more loyal officials around him while the country begins to focus on economic development, Michael Madden, a North Korea expert from 38 North, told Reuters. He said the army could be getting ready to take over crucial infrastructure projects.
All of the new officials are young than their predecessors, according to Reuters.
Next week's historic summit between Trump and Kim is expected to focus on denuclearization and the Hermit Kingdom's role in the global economy.
The June summit will be the first-ever meeting between a U.S. president and a North Korean leader.