North Korea opens nation's biggest power station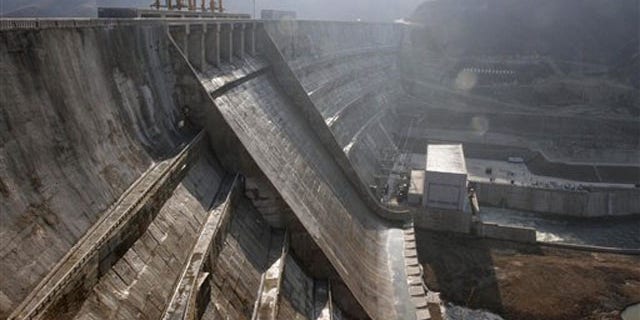 HUICHON CITY, North Korea – North Korea on Thursday unveiled one of its biggest construction projects in recent years: a massive hydroelectric power station that is expected to provide the nation with much-needed electricity.
The opening of the Huichon Power Station in Jagang Province, north of Pyongyang, was the first big ceremony in a month of celebrations timed for the April centenary of the birth of late President Kim Il Sung.
The power station on the Chongchon River, which had been under construction for more than three years, was a favored project of late leader Kim Jong Il. Kim had visited the project at least five times before his December death.
Son Kim Jong Un, North Korea's new leader, visited the construction site with his father in August 2011.
The power station is North Korea's largest, with two dams and a network of underground tunnels. The dams harness water from the Jangja and Chongchon Rivers. A second power station further down the Chongchon River is due to begin soon, officials said.
North Korea suffers from an acute power shortage.
New economic goals announced in 2009 called for undertaking major construction projects such as the Huichon Power Station as well as modernizing farms and factories in time for the April 2012 festivities.
North Korea will celebrate the 100th anniversary of Kim Il Sung's birth on April 15.
North Korea also has announced plans to launch a satellite on the back of a long-range rocket as part of the celebrations. The United States and other nations have urged Pyongyang to cancel the launch, warning that it would be seen as a violation of a ban on missile activity.