North Korea has up to 60 nuclear weapons, South Korean official says
North Korea is estimated to have up to 60 nuclear weapons, a South Korean official said on Tuesday, the first public announcement about the hermit kingdom's secret arsenal.
Unification Minister Cho Myoung-gyon told parliament in a response to a question that intelligence authorities estimate that North Korea has between 20 and 60 bombs.
South Korea's main spy agency, the National Intelligence Service, did not comment immediately on the disclosure, Sky News reported.
Cho's ministry said Tuesday that his comments didn't mean that South Korea would accept North Korea as a nuclear state, adding that diplomatic efforts to rid the North of its nuclear program would continue.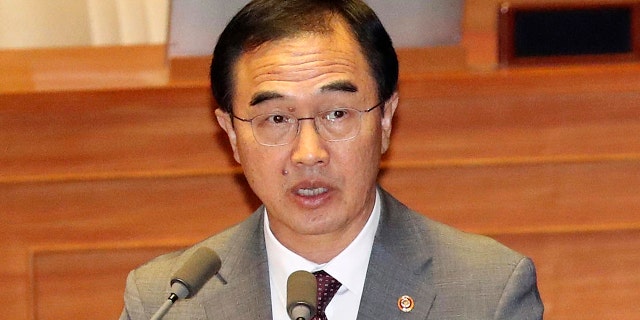 The South Korean assessment on the North's arsenal is not much different from outside civilian estimates on how many nuclear materials the hermit country is believed to have produced. According to South Korean government reports, North Korea is believed to have produced 110 pounds of weaponized plutonium, enough for at least eight bombs.
NORTH KOREA, SOUTH KOREA BEGIN REMOVING THOUSANDS OF LANDMINES IN FORTIFIED BORDER AMID RESUMED DIPLOMACY
Earlier this year, Stanford University scholars, including nuclear physicist Siegfried Hecker, who visited North Korea's centrifuge facility at Nyongbyon in 2010, wrote that North Korea is estimated to have a highly enriched uranium inventory sufficient for 25 to 30 nuclear devices, according to the Associated Press.
The apparent disclosure of the weaponry comes as North Korea warned on Tuesday that it cannot use an end-of-war declaration as a "bargaining chip" in denuclearization talks with the U.S., the Yonhap News Agency reported.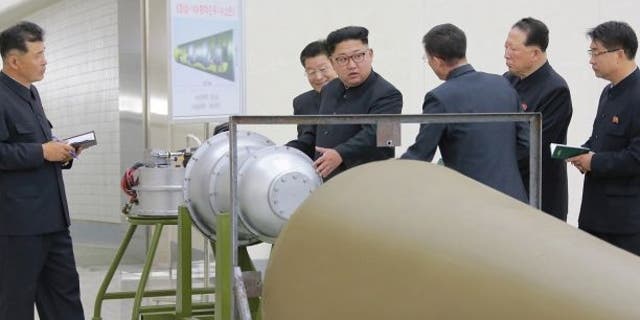 The North's official news agency said its government, led by dictator Kim Jong Un, has taken significant measures to end hostile relations, but that the U.S. is "trying to subdue" it through sanctions.
NORTH KOREA REMAINS 'SIGNIFICANT' NUCLEAR THREAT, TRUMP PICK FOR TOP US GENERAL IN SOUTH KOREA SAYS
An editorial in a state-run North Korean newspaper added that a declaration replacing the 65-year-old armistice to formally end the Korean War "is not just a gift from a man to another."
The North entered talks with the United States and South Korea on its advancing nuclear arsenal earlier this year, saying it's willing to negotiate.
Nuclear diplomacy later stalled due to suspicions over how sincere North Korea was about its disarmament pledge. But U.S. Secretary of State Mike Pompeo is to visit Pyongyang this month to set up a second summit between President Trump and Kim.
The Associated Press contributed to this report.