No Joke: Venezuela President Creates A New Cabinet Post Called 'Ministry Of Supreme Happiness'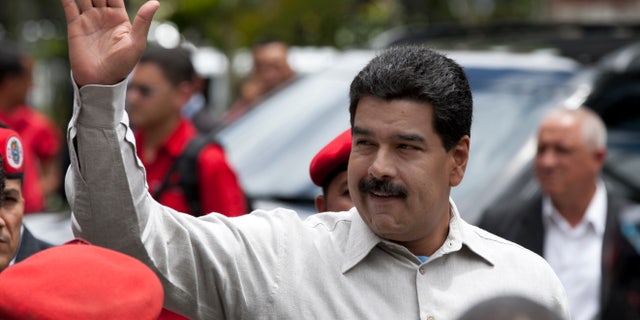 Venezuelans are digesting their controversial president's latest move — the creation of a new cabinet office dubbed the Ministry of Supreme Social Happiness — with a mix of outrage, sarcasm and utter disbelief.
The new post, President Nicolas Maduro said Thursday on national TV, will coordinate the 33 social programs known as "missions" established during the 14-year rule of late President Hugo Chávez to alleviate poverty in Venezuela.
The new office will tend to the needs of the population by providing service for "old people and old women, little boys and little girls, who are the most sublime and loved of the revolutionary people."
Maduro said it was all part of fulfilling Chavez's Socialist movement.
"All these missions are part of the great system of socialist revolution that transcends the criteria of the State of welfare, a step forward in the framework of capitalism," Maduro said, adding that he has appointed heads for each mission, who report to the president any progress made or obstacle encountered.
"We have to take these missions to heaven, this is our show of appreciation for Chávez," he said as quoted by newspaper El Universal.
The move prompted immediate all-around reaction in the South American country, with many having a field day on social media.
"It's been 24 hours since the creation of the "Deputy Ministry of Supreme Happiness" and I'm already happy :)" quipped the radio host and humorist Luis Chataing on Twitter.
"I just hope that one day [Maduro] launches the Deputy Ministry of Beer so he can make me and all drunks happy," joked Victor King, a bananas street vendor in Caracas, to The Associated Press.
Other Venezuelans reacted with displeasure.
"International ridicule ... The Supreme Happiness of the people ... what a shame with this man, he has no limits," former diplomat and television anchor Leopoldo Castillo posted on Twitter.
"Instead of a Supreme Happiness Ministry, I would be very happy if I could go to the market and get milk, (toilet) paper ... and not come back home with a few things and an empty wallet," said Liliana Alfonzo, a 31-year-old housewife who says that getting the most basic ingredients for almost any meal has become a "via crucis."
Drawing on billions of dollars in oil revenues, the late president Chávez and now Maduro undertook a long list of social programs or missions, which offer everything from job training to housing, appliances and even cash assistance for single mothers.
But critics warn that these anti-poverty measures are far from producing long-term solutions. The opposition coalition said that the missions are essentially aimed at keeping the loyalty of government supporters without providing any real solutions against poverty.
Oil-rich Venezuela is chronically short of basic goods and medical supplies. Annual inflation is running officially at near 50 percent and the U.S. dollar now fetches more than seven times the official rate on the black market.
The Associated Press contributed to this report.
Follow us on twitter.com/foxnewslatino
Like us at facebook.com/foxnewslatino