Nice, Riviera jewel, has flip side as jihadi breeding ground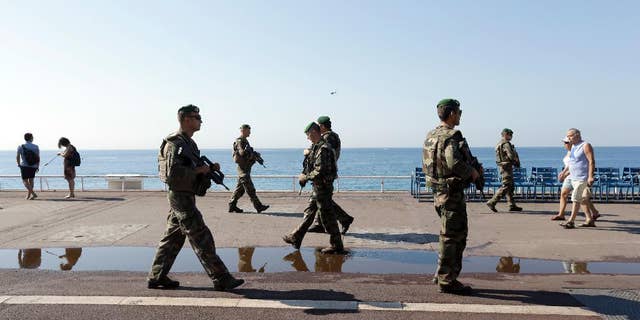 NEWYou can now listen to Fox News articles!
NICE, France – Nice, the city that sits on the Bay of Angels and that for many epitomizes the sun-splashed French Riviera, has a flip side unknown to tourists and invisible to most residents, as a breeding ground for Islamic radicals and jihadis.
About 200 youths from Nice have traveled to Syria, and more are expected to leave, according to experts. And one of the top Syria-based recruiters of French jihadis hails from Nice.
The city's many moderate Muslims fear a backlash after the Bastille Day truck attack by a Tunisian radical that killed at least 84 revelers on its famed Promenade des Anglais. The Muslim community is mourning its many victims of the attack, with mosques holding memorials and some families sending bodies back to native lands across the Mediterranean in North Africa.
The attack on a center of insouciant urban life jolted Nice into the other reality of their city, far removed from its sparkling image — the underbelly where the landscape includes housing projects and a population, often Muslims from North Africa, living on the edge of the mainstream. Those outer rims are a wellspring of discontent tapped by the Islamic State group and other extremist organizations.
There are 15 to 20 "informal places of worship" in metropolitan Nice, makeshift prayer rooms preaching mainly fundamentalist or radical messages, according to Yasmina Touaibia, a political scientist who teaches at the Nice law school.
"So there is a breeding ground in this town," she said.
"We let these groups proliferate silently without paying attention," she said, "and today (they) have created networks and are rooted in a number of neighborhoods."
The profile emerging of the truck driver who throttled down the promenade on July 14, a Tunisian who had lived in Nice for years, points to a potential link with IS, which claimed responsibility for the attack.
At 31 and with three children, Mohamed Lahouaiej Bouhlel was older than many who transform seemingly overnight into Islamist radicals. He has been described by family in Tunisia and neighbors in Nice as a man with a volatile temperament prone to bursts of anger.
While no direct link between Bouhlel and IS has yet been established, he is suspected of heeding their instructions to Muslims in Europe to carry out their jihad at home, and by any means.
Bouhlel, a delivery man, was clearly on the margins of society in Nice, where the far-right National Front, opposed to immigration and stoking fears of a perceived Muslim "invasion," has had a strong presence for years.
"Nice is a town where there is a weak social tissue ... less solidarity," contrary to, for example, the much larger city of Marseille, about 200 kilometers (125 miles) down the coast with a substantial Muslim population, said Raphael Liogier, a sociologist and expert on Islam in France.
In Nice, "there is ostensible, extremely visible wealth ... with an enormous disparity with the forgotten population who in a way just lick the windows," he said. "It is harder to be poor in Nice than in Marseille.
"Nice is the heart of the heart of the heart of the Riviera," Liogier said.
Oumar Diaby, alias Omar Omsen, who is considered by authorities to be a top Syria-based recruiter, has lured youth from his hometown of Nice to Syria, where he is aligned with Islamic State's enemy, al-Nusra.
Omsen is known for his French-language jihadi recruitment videos, notably on YouTube, and was among the first to target girls for recruitment.
Christian Estrosi, who served for years as mayor and now runs the region, fought to keep the new En-Nour mosque from opening in western Nice. He recently lost the battle after the Council of State, France's highest administrative body, approved the mosque, which opened July 4.
Local authorities have put in place measures intended to spot radicalization and encourage friends or family members to report what Nice Mayor Philippe Pradal called "weak signals," such as changed eating habits or sudden interest in religion.
A psychoanalyst who co-directs a de-radicalization program, Brigitte Erbibou, said that "increasingly radical positions are nourishing each other" in Nice.
"Nice will be like ... a laboratory for all kinds of radicalism, extreme right, Muslim fundamentalists ... that reflects all the problems of France," said Touaibia, the political scientist.
Some anti-Muslim remarks were captured on video during the commemoration Monday on the Promenade, site of the truck attack.
"The fear exists since 2015," said the imam of the Ar-Rahma mosque, Otmane Aissaoui, referring to two waves of attacks in Paris that killed 147. The mosque is located in the modest Ariane neighborhood, where some youth who traveled to Syria lived.
"They must not blame Muslims," he said. "The world is changing. The world is turning in a way we barely understand. It is not French Muslims who are the cause of the distress."
The Nice attacker "is a madman, a fanatic who committed an act that has been put on Islam," said Mahmoud Benzamia, the En-Nour imam, noting that numerous Muslims were among the victims.
Mayor Pradal told The Associated Press that city officials make a distinction between representatives of Islam "who wish to work with the republican (French) model" and those who don't.
"But make no mistake, those who have declared war on us and who admit to having done so, aren't meant to stay in the nation in the long run," he said.
___
Elaine Ganley reported from Paris. Maeva Bambuck contributed to this report.