New set of scandals have Brazilian lawmakers rethinking Rousseff impeachment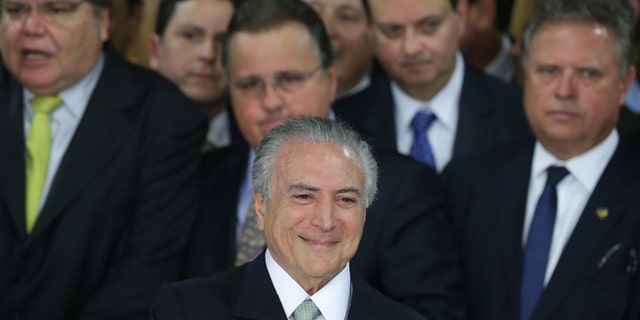 RIO DE JANEIRO (AP) – When Brazilian President Dilma Rousseff was impeached and suspended last month, her permanent ouster seemed all but certain.
Rousseff's impassioned argument that she was the victim of a modern-day coup d'état had fallen on deaf ears in Brasilia, as majorities in both chambers of Congress voted to show her the door.
But the government of interim President Michel Temer may be doing more to persuade senators to rethink their stance on Rousseff than she ever could while in office.
In light of a series of damaging leaked audiotapes, the abrupt exit of two ministers, allegations of corruption against other interim officials and baffling decisions by Temer, including appointing a Cabinet of all white men, some senators say they are reconsidering their final vote on the matter.
"This is very serious," opposition Sen. Cristovam Buarque told The Associated Press of the deluge of scandals rocking Temer's administration. "We have to be even more cautious with any decision we make about Dilma's impeachment. A lot can happen before this is over."
Buarque voted to impeach Rousseff, but says he is now undecided on permanent removal.
Rousseff's fate will be determined by a trial in the Senate, which could take place as soon as July. To permanently remove her, a super majority of 54 of the chamber's 81 senators is needed. If Rousseff is removed, Temer will serve the remainder of her term, which goes through 2018.
Sen. Acir Gurgacz, who also voted for impeachment, is another of at least a half-dozen senators who have publicly said they are rethinking their final vote since Temer, Rousseff's vice president turned nemesis, took over on May 12.
"The crises in the Temer government will influence my opinion, and that of the majority," Gurgacz told the daily Folha de S. Paulo, adding that if the missteps continue "the scorecard can flip-flop."
It wouldn't take many senators to change the balance.
The vote to impeach and suspend Rousseff was 55-22, just one more than the minimum needed for permanent ouster. Rousseff is accused of using sleight of hand accounting techniques in managing the federal budget to hide yawning deficits. She has repeatedly denied wrongdoing.
Instead, she and her supporters maintain the real reason for her removal was to halt a sprawling investigation into billions of dollars in kickbacks at Petrobras, the state oil company.
Over the last two years, dozens of businessmen and top politicians have been arrested, tried and jailed for their part in the colossal graft scheme.
While Rousseff has paid for it politically — many of the crimes took place during 13 years that her Workers' Part was in power — she repeatedly refused to intervene in a process she said Brazil badly needed.
Leaked audiotapes that began emerging within weeks of Temer taking power, have bolstered arguments that impeachment was really about Petrobras, not breaking fiscal rules.
In one, Temer's planning minister, Romero Juca, proposes a "pact" between politicians of all parties, the media and the Supreme Federal Tribunal, the country's highest court, to remove the left-leaning Rousseff and "stop the bleeding" of the Petrobras investigations.
After the leak, Juca abruptly announced he was taking a leave of absence. A few days later, Transparency Minister Fabiano Silveira resigned after a recording emerged in which he is heard advising politicians targeted by the probe. The secret recordings also captured the head of the Senate and former President Jose Sarney brainstorming ideas to weaken the investigation.
The recordings were likely made by Sergio Machado, an ex-senator and former head of another state oil company, Transpetro. Machado, who was being investigated in the Petrobras scandal, reached a plea deal with prosecutors.
Temer is clearly on the defensive.
Last week, he felt compelled to promise "for the umpteenth time" that the Petrobras investigation wouldn't be compromised. On Monday, he called a news conference to deny claims that two others in his government, the tourism minister and women's secretary, would be let go because of corruption allegations.
Even before the leaks, Temer's judgment was being questioned. His decision to appoint an all-white male Cabinet was condemned by groups nationwide. He has also been roundly criticized for other moves, such as folding the Culture Ministry into the Education Ministry. A wave of nationwide protests pushed Temer to relent and bring back the Culture Ministry.
Rafael de Paula Aguiar Araujo, a political scientist at the Pontifical Catholic University in Sao Paulo, dismissed suggestions that some senators were rethinking their final vote on Rousseff's fate.
"These comments are like trial balloons to see if they can get concessions," said Araujo, who said ultimately he didn't see the Senate bringing Rousseff back.
Indeed, despite the turmoil of the interim government, it would be hard to make the case that Rousseff's return represents a solution.
Her government had become paralyzed during her last months in office. When Rousseff was impeached, the once-popular leader's approval ratings hovered around 10 percent and polls showed that 61 percent of Brazilians wanted her out. Perhaps the biggest catalyst for her downfall, though, was the worst recession to hit Latin America's largest economy since the 1930s, which has no end in sight.
Believing there are no good solutions, a growing group of legislators is working to draft legislation to call new elections. For that to happen, both Rousseff and Temer would have to resign or be removed from office.
"New elections would be difficult but not impossible," said Francisco Fonseca, a political science professor at Fundação Getulio Vargas, a university in Sao Paulo. "Brazil isn't a steady or stable country right now."
Like us on Facebook
Follow us on Twitter & Instagram