New School Year In Compton, Calif. Brings Campus Police With AR-15 Rifles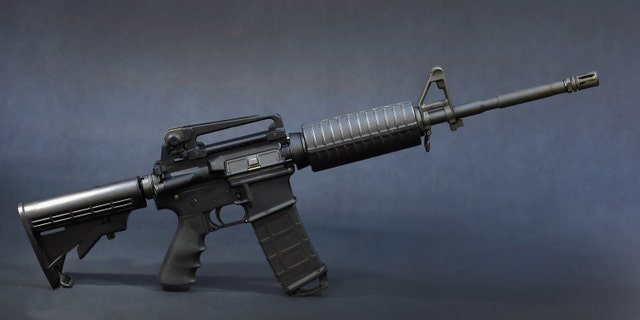 As a national debate takes hold – on the heels of clashes in Ferguson, Missouri between minorities and police there – about the scale of weaponry that local law enforcement authorities should reasonably possess, a parallel discussion is happening in Compton, California.
Compton's debate centers on a new presence on city school properties this academic year – AR-15 semiautomatic rifles.
School board officials this summer approved a policy that allows school police who pass a screening to carry AR-15 rifles in their patrol cars during the time they are working, according to KPCC, a Southern California public radio station.
"This is our objective—save lives, bottom line," Compton Unified Police Chief William Wu told the board, according to KPCC.
Critics of the policy call it excessive. They say there is no justification for police providing security around schools to carry high-powered weapons.
"The school police has been very notorious in the community and in reality has never had to shoot anyone before," said Francisco Orozco, described by KPCC as a recent Dominguez High School graduate and founder of the Compton Democratic Club. "So this escalation of weapons we feel is very unnecessary."
The city of Compton is predominately Latino. Hispanics make up some 65 percent of the community, followed by African-Americans, who are about 33 percent.
Wu maintains that police can be helpless when faced with a mass attack, such as a terrorist one or a school shooting.
Perpetrators in such cases, Wu said, often wear body armor that is impervious to routine weapons. The AR-15, he added, is also more accurate.
"Handguns you'd be lucky to hit accurately at 25 yards," Wu said. "With a rifle in the hands of a trained person, you can be go 50, 100 yards accurately."
A CNBC story from last year about the growing popularity of the AR-15 described it as the weapon that "is at the heart of the gun control debate."
"The AR-15 is, essentially, a gun that was designed to inflict maximum casualties, death, and injury, in close to medium range. That's what it does," CNBC quoted gun control advocate Tom Diaz as saying. "The real problem is that we allow that kind of firepower to come into a theater or into a first-grade class."
But a defender of the AR-15, Steve Sanetti, president of the National Sports Shooting Foundation, told CNBC: "It's a question of cosmetics. It's not a question of functioning. The rifles are sane, safe, reliable types of firearms used by millions of citizens for lawful purposes. They are not just killing machines."
Orozco told KPCC that the district should devote more attention to more common security problems on school grounds.
He also expressed concern about a lawsuit by parents of district students that said that Compton school police profile minority students.
"The school police has not even earned the right to carry handguns," Orozco said.
In a Facebook exchange with the Compton Democratic Club, the Compton School Police Officers said they "are not planning to attack the Galaxy of Teachers and Students" with the AR-15 rifle. They also noted that some five other school districts in California allow such weapons.
"If we encounter an active mass murderer on campus with a rifle or body armor, our officers may not adequately be prepared to stop that suspect," the message said. "School Police Officers will undergo a training course, followed by a shooting proficiency test on a firing range and a written exam… The safety of our Students, Staff, and Parents are very important to us."
Follow us on twitter.com/foxnewslatino
Like us at facebook.com/foxnewslatino