New satellite imagery shows Chinese drone on contested island
EXCLUSIVE: New satellite imagery obtained by Fox News shows that China, for the first time, has deployed a drone with stealth technology to a contested island in the South China Sea, in another sign of escalating tensions in the region.
The new development comes as President Obama visits Japan. He lifted an arms embargo against Vietnam while visiting Hanoi earlier this week, drawing criticism from the Chinese government about stoking tensions in the region.
The newly obtained satellite images from ImageSat International (ISI) show a Chinese Harbin BZK-005 long range reconnaissance drone on Woody Island in the South China Sea.
The drone can remain airborne for up to 40 hours.
The Chinese drone did not appear armed in the satellite image taken last month. For the time being, the BZK-005 does not have the capability to fire missiles, unlike other drones in China's inventory.
Other satellite images show some of the recently deployed HQ-9 surface-to-air missiles on Woody Island transferred from one cluster on the northern part of the island to other locations in a move most likely to make them more difficult to destroy in a potential air strike.
In February, Fox News first reported the deployment of the missiles to Woody Island as President Obama hosted leaders from 10 Southeast Asian nations in Palm Springs, California.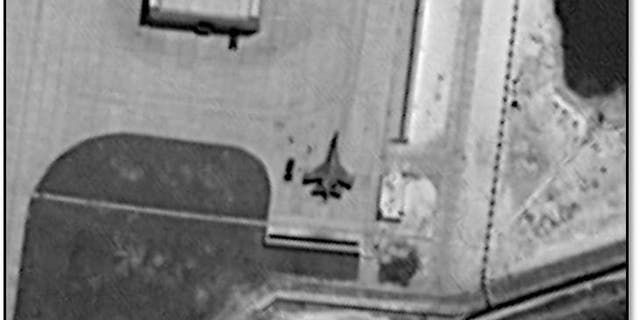 The Chinese HQ-9 is similar in design to the Russian S-300 missile system according to U.S. defense officials and has a range of 125 miles.
Asked about the deployment of the Chinese drone to the island, a senior Pentagon official said he could not comment on intelligence matters.
When asked about the increasing drone threat by China in the South China Sea at a press briefing Thursday, Pentagon Press Secretary Peter Cook did not address the issue directly, but acknowledged the Pentagon had "concerns" about China's behavior in the region along with other countries.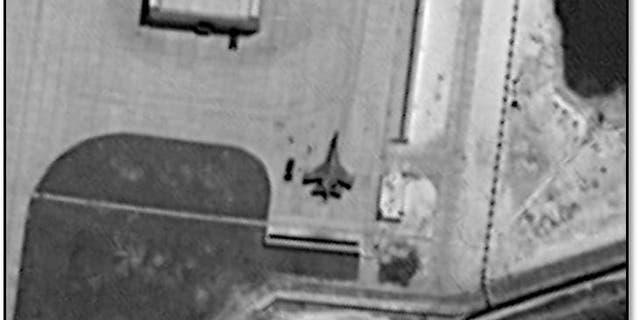 "You've heard us talk at length [about] our concerns about militarization in the South China Sea, not just by China," said Cook. "There are concerns about what's happening."
The Chinese first built a runway on Woody Island in the 1990s. Located in the Paracel chain of islands in the South China Sea, Woody Island is also claimed by Taiwan and Vietnam in addition to China.
Separately, China has constructed 3,200 acres of artificial islands atop former rocks and reefs farther south in the Spratly Islands according to a recent Pentagon report to Congress.
Over $5 trillion in cargo and natural resources pass through the South China Sea each year.
The LA Times recently reported that China has sold its armed drone, the CH-4, to Nigeria, Pakistan and Iraq, raising concerns about the proliferation of this type of technology. In December, Iraq claimed to have successfully used a CH-4 against ISIS.
Earlier this month, the U.S. Navy sailed a guided-missile destroyer near Fiery Cross Reef, one of China's man-made islands in the South China Sea.
The "freedom of navigation" operation as the Pentagon calls them, took the U.S. Navy warship within 12 nautical miles of the Chinese island, sending a message to China that the United States does not recognize China's territory.
In response, China launched fighter jets. Early this year, China tested commercial airliners on a new runway on Fiery Cross Reef. Defense officials tell Fox News, that China has sent fighter jets and other military equipment there recently.
A week after the U.S. destroyer sailed near Fiery Cross Reef, two Chinese J-11 fighter jets buzzed a Navy EP-3 reconnaissance aircraft flying 50 miles east of Hainan Island where a large Chinese submarine base is located.
The Pentagon called China's action "unsafe" and claimed the Navy EP-3 was flying in international airspace.
Chinese officials were quoted Thursday as saying China is ready to deploy nuclear-armed submarines in the Pacific, as a result of the United States moving more weapons to the region.
China has said previous freedom of navigation operations by the Navy "violated Chinese law" and called the actions "provocative." A Chinese military spokesman vowed "dangerous consequences" if similar operations from the American warships continue in the future.
When China's President Xi visited the White House in September, he vowed not to militarize the South China Sea.
China's foreign minister, Wang Yi, reiterated that pledge when Secretary of State John F. Kerry visited Beijing in February, but said some "self-defense" weapons were necessary to protect the Chinese islands.
Last month, Secretary of Defense Ash Carter visited the Philippines, where U.S. military forces have returned for the first time since the Subic Bay naval base was closed in 1992.
After Carter's visit, a flight of U.S. Air Force A-10 attack planes flew near Scarborough Shoal, located only 200 miles from Manila, where U.S. defense officials have seen Chinese ships surveying the area for another potential dredging operation.