New offensive frees captives from Boko Haram; exposes group's bloodlust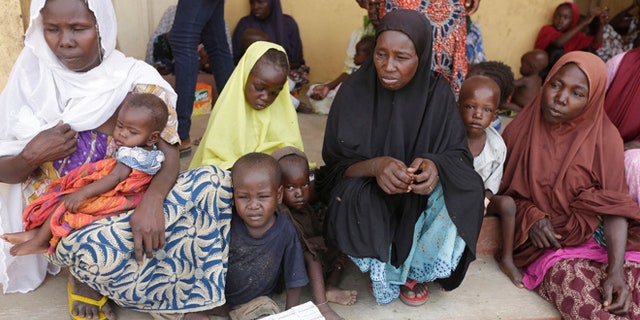 NEWYou can now listen to Fox News articles!
A major offensive by Nigerian forces has freed nearly 700 captives from Boko Haram in the last week, while also further exposing the Islamist terror group's bottomless propensity for evil.
As many as 10 girls were stoned to death last week as rescuers closed in on the terrorist group's stronghold in the Sambisa forest in the northern Borno state. Survivors told of their harrowing escape from the terror group, which claims to be aligned with ISIS.
"Boko Haram came and told us they were moving out and that we should run away with them. But we said no," 27-year-old Lami Musa, a former captive who recently gave birth while being hostage, told The Associated Press. "Then they started stoning us. I held my baby to my stomach and doubled over to protect her."
It is still unclear if any of them were among the so-called "Chibok girls," whose mass abduction from their school a year ago sparked outrage worldwide and a campaign for their freedom under the hashtag #BringBackOurGirls.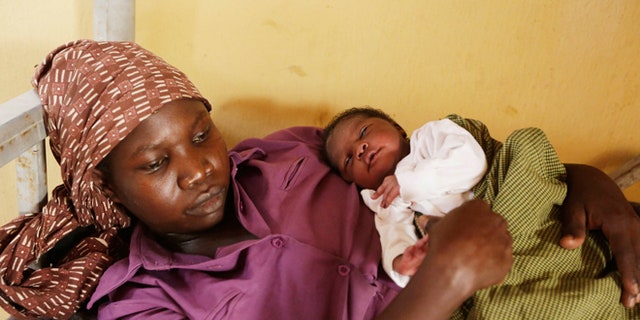 Musa said that she believes about 10 women may have been stoned to death, but official numbers were not immediately known.
Musa was in the first group of rescued women and girls to be transported by road over three days to the safety of the Malkohi refugee camp, set up at a deserted schoolhouse near military barracks on the outskirts of Yola, the capital of northeastern Adamawa state. She said that last week's rescue saved her from a forced marriage to one of the killers of her husband.
"They took me so I can marry one of their commanders," she said of the Boko Haram militants who snatched her away from her village after killing her husband and forcing her to abandon their three young children five months ago in Lassa village.
"When they realized I was pregnant, they said I was impregnated by an infidel, and we have killed him. Once you deliver, within a week we will marry you to our commander," she said.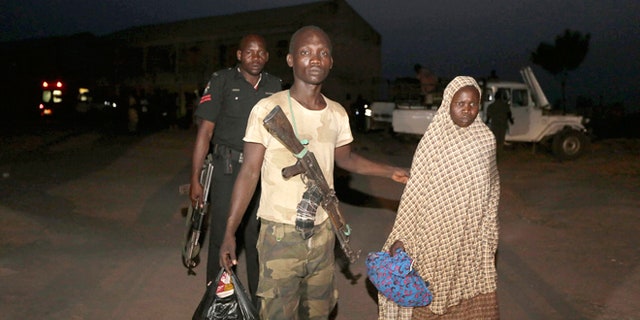 The horror that the girls have endured while held captive by Boko Haram is nothing new.
"We were screaming about the atrocities that Boko Haram has been inflicting for the past five years," Pastor Laolu Akande, of the Christian Association of Nigerian-Americans (CANAN), told FoxNews.com. "Since Chibok happened it's brought more attention, but this is one group that has been committing horrendous atrocities, especially against young schoolgirls and women."
When nearly 300 schoolgirls were kidnapped by Boko Haram in the Borno State town of Chibok, it garnered international attention with social media campaigns demanding their safe return. Then-President Goodluck Jonathan proved unable to stop the rampaging terrorist army, an issue that contributed to his re-election loss to Muhammadu Buhari.
"Just before the election, we met with some members of the [Nigerian] military and they had told us how the president had not given them a single order to go and rescue the Chibok girls," Akande recalled of a recent trip CANAN had made to Nigeria. "President [Jonathan] was never really committed until the election was at stake."
Buhar, a military man who led the nation for two years following a coup in 1983, will take office at the end of May and, some believe, will ramp up the offensive against Boko Haram.
"The new president dealt with these problems before when he was a general in the military," Akande said. "He is known to be an outstanding military commander. He was highly respected for getting the job done."
The women and girls who were stoned at the hands of Boko Haram militants were not the only one to perish during the rescue efforts. Some, who could not fit onto packed military vehicles, were forced to walk, according to Musa. Although they were told to walk in the tire tracks made by the convoy because Boko Haram militants had mined much of the forest, some strayed from the ruts and died when a land mine exploded, killing three, she said.