Nephews of Venezuelan first lady plead not guilty to U.S. cocaine-smuggling charges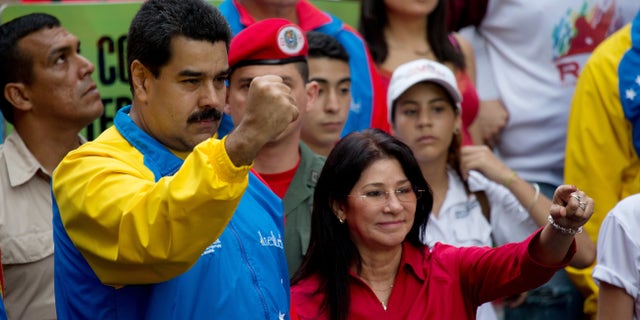 NEW YORK (AP) – One of two nephews of Venezuela's powerful first lady had an emotional reaction in a Manhattan courtroom as the pair entered not guilty pleas to U.S. cocaine-smuggling charges, his lawyer said.
"He's nervous. He's terrified," attorney Kafahni Nkrumah said outside court after his client, Efrain Antonio Campo Flores, 29, entered his plea before U.S. District Judge Paul Crotty.
Nkrumah described his client's emotions after he was asked outside Manhattan federal court why Campo Flores seemed to be crying as he waited for the brief hearing to begin.
"He's a young man who's been forcibly detained in our country facing very serious drug charges, charges that could get him a significant amount of time in prison," Nkrumah said. "So he's understandably very, very nervous."
Campo Flores and Franqui Francisco Flores De Freitas, 30, entered not guilty pleas to an indictment charging them with conspiring to import 800 kilograms of cocaine into the United States. The charge carries a maximum potential sentence of life in prison. Each wore headphones during the proceeding to listen through a translator.
Campo Flores and Flores De Freitas were arrested last month in Haiti and brought to the United States. They are the nephews of Venezuelan first lady Cilia Flores. Both were being held without bail.
A lawyer for Flores De Freitas declined to comment.
The next hearing in the case was set for Feb. 29.
The court appearance came a day after authorities revealed that two high-ranking military officials are named in a sealed federal indictment in New York accusing them of colluding with cocaine traffickers.
The revelation prompted Venezuela's top military official — Defense Minister Gen. Vladimir Padrino to say on Twitter that the "smear campaign against the Bolivarian Armed Forces and its leaders must stop."
The United States has been increasing pressure on high-ranking members of Venezuela's socialist government as their country has become a thriving transit zone for narcotics destined for streets in the U.S. and Europe.
Several Venezuelan officials, including a former defense minister and head of military intelligence, have been indicted or sanctioned.
Like us on Facebook
Follow us on Twitter & Instagram