Nearly 1,300 Cubans stranded in Colombia headed for U.S.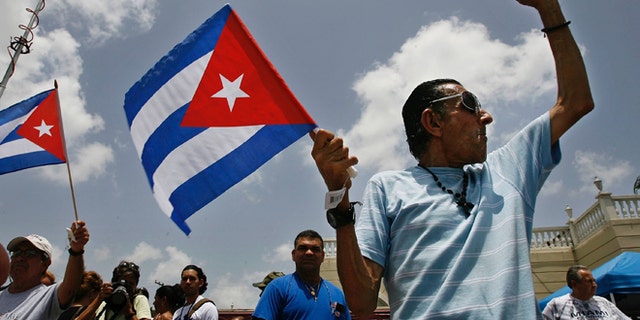 BOGOTA, Colombia (AP) – Nearly 1,300 Cubans who hope to make their way to the United States are stranded in miserable conditions near the Panamanian border, a regional Colombian government ombudsman said Friday.
William Gonzalez told The Associated Press that the 1,297 Cubans who arrived in the town of Turbo three months ago include about 300 children aged 1 to 14 and 11 pregnant women.
Gonzalez, who heads the ombudsman's office in the Urabia region, said officials haven't figured out what to do with the Cubans.
"We only know they are going to be deported, but we don't know how or in what form," he said.
Gonzalez said the Cubans have been living amid insects and rodents in a makeshift shelter with inadequate sanitary facilities.
"What worries us most at this moment is the health and welfare situation of the 300 children," he said.
They've run afoul of a broader crackdown on migration by several Central and South American nations that has led several to close borders to an increasing number of Cubans trying to reach the U.S. by land. Many Cubans apparently fear that detente with Havana will lead the U.S. government to end the preferential treatment that Cuban migrants now get when reaching U.S. soil.
More than 7,000 Cubans were stuck in Costa Rica for weeks when Nicaragua closed its border to them. They were eventually airlifted to Mexico and El Salvador to continue their journey. Thousands of others had taken shelter in Panama before it tightened its border with Colombia.
Many began their journey in Ecuador, which long had welcomed visitors from Cuba, an allied country.
But Ecuador began cracking down several months ago, deporting scores of Cubans back to their homeland.
The Cubans stranded in Ecuador are looking to join thousands of their compatriots who were flown to Mexico earlier this year by Panama and Costa Rica.
Colombian President Juan Manuel Santos this week ordered police to investigate the situation of the Cubans in Turbo and try to solve it.
Colombia's immigration service said Thursday is has deported more than 5,000 migrants over the past two months, most of them from Cuba and Haiti.