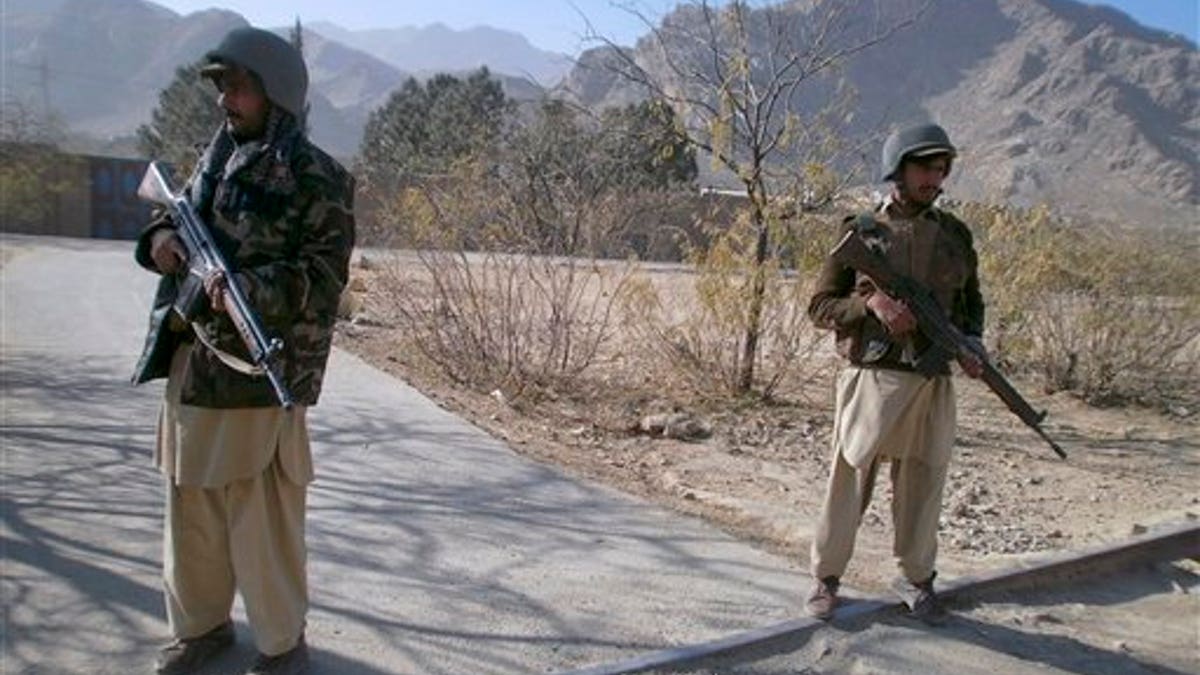 The covert U.S. campaign of drone attacks on terror suspects in Pakistan is one of the worst kept secrets in international diplomacy. Now, U.S. military leaders reportedly are asking for an even greater presence in the country.
American forces are pushing to expand special operations raids into tribal areas of neighboring Pakistan where Islamist militants are known to find refuge, The New York Times reported late Monday, a charge the U.S.-led coalition in Afghanistan denied Tuesday.
NATO's deputy chief of communications, U.S. Rear Adm. Gregory Smith, said there was no truth to a report published in the Times.
Citing unnamed American officials in Washington, the Times reported on its website late Monday that U.S. military commanders believe special operations forces could capture militants for interrogation, bringing in an intelligence windfall.
"There is absolutely no truth to reporting in The New York Times that U.S. forces are planning to conduct ground operations into Pakistan," Smith said.
He added that NATO and U.S. forces, along with "their Afghan partners, have developed a strong working relationship with the Pakistan military to address shared security issues. This coordination recognizes the sovereignty of Afghanistan and Pakistan to pursue insurgents and terrorists operating in their respective border areas."
Pakistan has firmly rejected any suggestion of U.S. assistance and has in the past sternly protested when the U.S.-led alliance had crossed the border into Pakistani tribal areas.
On Sept. 30, Pakistan closed a key border crossing for 10 days, stranding NATO resupply trucks in an apparent protest over a NATO helicopter incursion that killed two Pakistani soldiers on the border. During the closure, almost 150 stranded trucks were destroyed by attackers.
The U.S. has mainly relied on unmanned drones to pursue Al Qaeda militants based in Pakistan. A decision to deploy special operations teams would signal frustration with Pakistan's efforts to root out militants who use its territory as a base to support the Taliban and other extremists.
In response to the newspaper report, Pakistan's ambassador to the U.S., Husain Haqqani, said, "Pakistani forces are capable of handling the militant threat within our borders and no foreign forces are allowed or required to operate inside our sovereign territory. We work with our allies, especially the U.S., and appreciate their material support but we will not accept foreign troops on our soil -- a position that is well known."
He noted that Adm. Mike Mullen, chairman of the Joint Chiefs of Staff, had visited Pakistan recently and had "acknowledged Pakistan's contribution. Nothing discussed during his trip indicates the likelihood of ill-advised escalation or unilateral action by NATO troops beyond their mandate in Afghanistan."
Last week, Mullen said in Kabul that he thought it was possible the Pakistani military could shut down Taliban hideouts on its soil to prevent insurgents from moving back and forth across the long, porous border with Afghanistan. He added that fixing the problem was critical to making progress in the war and that he was encouraged by what Pakistan had already done to go after insurgents on its side of the border.
Pakistan has made progress against safe havens over the past year in operations that have taken a toll on its forces, according to a five-page public summary of the White House's classified Afghanistan War review that was released last week.
Pakistani authorities have almost exclusively focused on militants who pose a threat inside Pakistan. So far they have refused a U.S. request to take on militants in North Waziristan, the place used most frequently to target U.S. forces. It is also the home base of the Al Qaeda affiliated Haqqani network.
Analysts and Afghan government officials have accused Pakistan of protecting the Haqqani network as a potential ally that could be of use after the Americans and their coalition partners leave Afghanistan.
"Cross border coordination has and continues to disrupt and dismantle insurgent networks in select areas, with significant operations on both sides of the border removing large numbers of insurgent leaders and fighters," Smith said.
The nine-year-old war in Afghanistan has grown increasingly unpopular in U.S. public opinion polls as it drags on with no apparent exit strategy. Using special operations forces could increase pressure on the militants, or it could create new problems for Washington.
The newspaper said that Afghan militias backed by the CIA have in recent years carried out a number of secret missions into Pakistan. The operations had previously been described as limited to intelligence-gathering. But the report said that recent interviews had revealed that in at least one instance, the Afghans attacked and destroyed a militant weapons cache.
Officials who described the proposal for raids and the intelligence operations to the newspaper declined to be identified by name because they were discussing classified information, the report said.
The Associated Press contributed to this report.