Napolitano Pays Last Visit To Border Cities, Announces New Security Plans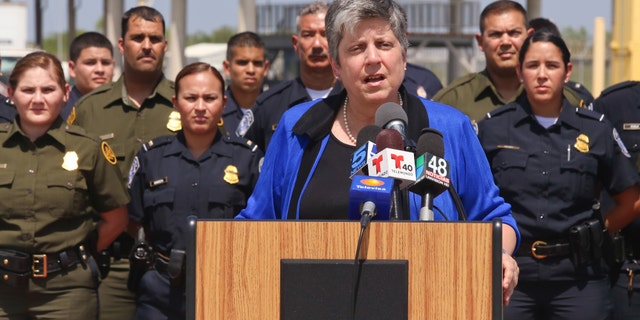 U.S.-Mexico security cooperation has never been better than it is right now with the administration of President Enrique Peña Nieto, according to U.S. Homeland Security Secretary Janet Napolitano.
Napolitano, who is leaving her post to head the University of California, met with Mexican Interior Secretary Miguel Angel Osorio Chong Tuesday in the border city of Matamoros, Mexico and announced plans for a bi-national security communications network and coordinated patrols between U.S. Border Patrol and Mexico's Federal Police.
No details of the programs were released.
"What we have been working on is improved intelligence sharing between our countries on a real-time basis and making sure, as Secretary Osorio Chong said, that the gaps are filled and they are filled in a timely way," Napolitano said. "But the emphasis on intel sharing, information sharing, making risk assessments that address the risk both countries face ... those things I think are continuing and are even stronger than they have been."
Napolitano's visit comes one week after the capture of alleged Zeta leader Miguel Angel Trevino Morales, which appeared to be the result of U.S.-Mexico intelligence sharing. Mexico would not say what role the U.S. played in the capture, but the arrest and killing of many top drug lords has come with intelligence from U.S. law enforcement.
Trevino Morales, considered among the most violent of Mexico's drug lords, was caught July 15 by Mexican marines along with two others on a dirt road outside Nuevo Laredo, across the border from Laredo, Texas. It was a significant arrest for Pena Nieto, whose administration has been at pains to show it is not softening the pursuit of organized crime since he took office Dec. 1.
His predecessor, Felipe Calderon, was repeatedly lauded by the U.S. for unprecedented cooperation between the two countries as he led an aggressive offensive against Mexico's drug cartels.
The Peña Nieto administration in April announced that contact for U.S. law enforcement would go through a "single door," Osorio Chong's office, signaling an end to direct sharing of resources and intelligence among law enforcement of both nations.
U.S. Rep. Henry Cuellar, a Democrat from Laredo, said Tuesday that he had congratulated Osorio Chong following Trevino Morales' arrest and called it the latest sign of cooperation.
"The U.S. has helped provide for a while intelligence to make sure that they're successful in reaching targets," Cuellar said.
The meetings took place just inside Mexico at the end of an international bridge linking Matamoros and Brownsville, Texas. Security was heavy at both ends of the bridge, with dog teams inspecting outbound cars on the Brownsville side and soldiers and state and federal police canvassing the bridge on the Mexican side.
Napolitano was scheduled to fly on to Mexico City for meetings with Peña Nieto's Cabinet. It will likely be her last visit to Mexico as homeland security secretary since she announced earlier this month that she will be leaving the post.
Based on reporting by The Associated Press.
Follow us on twitter.com/foxnewslatino
Like us at facebook.com/foxnewslatino