N.M. chile growers say U.S.' limited guest worker program is hurting business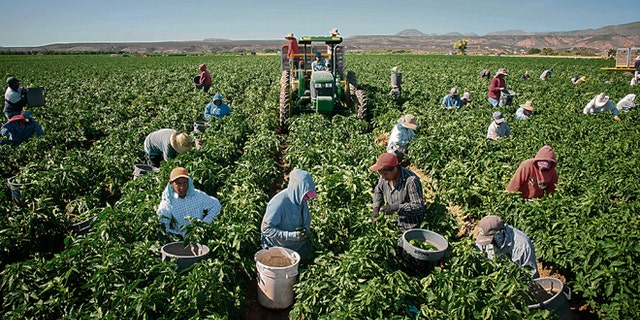 ALBUQUERQUE, N.M. (AP) – Ed Ogaz and his family have farmed for decades in New Mexico's famed Hatch Valley — an area known internationally for its green chiles. But in recent years, Ogaz has watched helplessly as the spicy staple has seen a decline because of drought, increased competition and a lack of chile pickers.
Ogaz and other New Mexico growers say a new guest worker program is needed to provide temporary immigrant laborers in order for farmers to survive the decline.
"I think we need a new Bracero program. I honestly do," Ogaz said, referring to the temporary guest worker program that allowed millions of Mexican immigrants to toil on U.S. farms from 1942 to 1964. "We just don't have a lot of young people getting into the business, and it's hard to find workers."
New Mexico Chile Commission chairman Rick Ledbetter said the federal government's limited guest worker program doesn't provide enough labor to do the hand-picking required to avoid bruising green chiles.
"I don't even grow green chile commercially. I can't," said Ledbetter, who operates a farm in Portales.
Last year, New Mexico saw a 10 percent decline in acres of red and green chiles harvested. That decline marked a 43-year low in the state, according to federal numbers.
Despite marketing efforts and the desirability of New Mexico chiles to national suppliers, federal numbers show the value of New Mexico red and green chiles was estimated at $38.7 million in 2014, compared with $49.5 million in 2013.
Chile has been a staple of New Mexico cuisine for centuries, and the Hatch region has become famous for its flavorful peppers. Chile is also the state vegetable and the basis of the official state question, "Red or green?"
Ogaz, owner of Anthony-based chile wholesaler Seco Spice Co., said farmers are competing for workers who are attracted to higher-paying manufacturing and distribution in towns such as Santa Teresa, New Mexico, on the Mexico border. Workers in those jobs don't have to toil in the blazing sun.
"I don't blame the young people," Ogaz said. "That's why we need temporary workers."
Jon Hendry, president of the New Mexico Federation of Labor, AFL-CIO, said he understands the troubles facing chile growers, but an expanded guest worker program without federal comprehensive immigration reform is unacceptable.
"We would not support anything that's piecemeal to support one industry," Hendry said.
Hendry said a guest worker program without overall reform would exploit workers and keep wages down.
According to U.S. Citizenship and Immigration Services, the H-2A worker program allows U.S. employers who meet specific regulatory requirements to bring foreign nationals to the U.S. to fill temporary agricultural jobs. Employers must prove the jobs are seasonal and they don't have enough U.S. workers who are able, willing, qualified, and available to do the temporary work.
The maximum period of stay in H-2A classification is three years.
Another program, H-2B, allows U.S. employers to bring foreign nationals to the U.S. to fill temporary nonagricultural jobs.
The U.S. Government Accountability Office said more than 250,000 foreign workers entered the U.S. through both visa programs from 2009 through 2013.
However, civil rights and farmworker groups say workers are regularly cheated out of wages and forced to live in substandard conditions.
Ledbetter said he wasn't confident Congress would pass a new guest worker program anytime soon. In the meantime, chile growers are watching experiments by inventors who are testing machines that would harvest and de-stem the crop.
So far, it looks promising, Ogaz said.
"But we'll have to wait and see how the chile looks. ...No one wants to buy a green chile that's bruised," he said.
Like us on Facebook
Follow us on Twitter & Instagram