Muslim Arabs find warm welcome in Russia's remote Grozny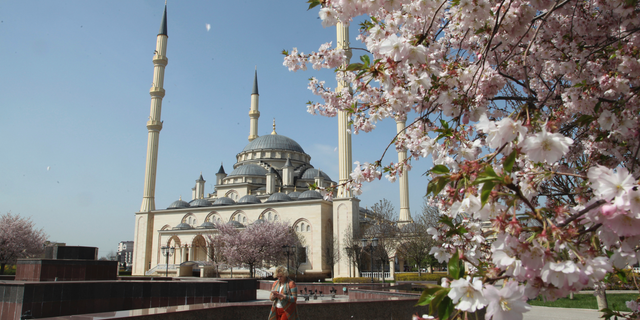 GROZNY, Russia – Even during the World Cup, which brought hordes of foreigners to Russia, the capital of Chechnya remained well off the beaten path for most travelers. The Grozny airport doesn't even have a conveyor belt for collecting baggage when you arrive. Bags are lined up in a small side room instead.
Once there, though, visitors will find a unique mix of Islam and exceptional hospitality — along with signs of lingering conflicts related to the country's civil war.
Muslims visiting from the Arab world will get a particularly warm welcome. Grozny residents seem eager to demonstrate their connections to Islam, perhaps in part because of their relative isolation as Muslims in Russia.
For me, in town to cover Egypt's national team, which had made Grozny its base for the World Cup, that meant a taxi driver who refused to accept money because I was a "guest" at his home.
Other drivers saw their chance to practice Arabic. "What do you like about Grozny?" one asked in perfect classical Arabic, the language used in the Quran and in literature. It's also taught in school, as opposed to spoken dialects used in each Arab country. Another spoke more broken Arabic, as he confided in me his bitterness that so many Chechens died in the civil war.
One young stranger was kind enough to decipher a Russian menu for me, then offered me a free lift to the stadium. He said he was a jeweler who traveled widely in Europe and seemed eager to practice — or show off — his English. Though it was a bit startling when he randomly boasted, "The Chechnya Mafia and the Italian Mafia are like brothers!" I didn't worry too much, figuring a real gangster wouldn't share that with a stranger.
Grozny has a deeply conservative Islamic character. It's home to one of Europe's largest mosques. Many men wear beards. Women wear hijab headscarves and long dresses in line with Islam's modest dress code. The region's leader, Ramzan Kadyrov, a former rebel who shifted alliances and is now backed by Moscow, is cultivating ties with Middle Eastern Muslim nations and has found patrons among the rulers of Abu Dhabi, largest and richest of the United Arab Emirates' sheikhdoms.
Like his assassinated father before him, Kadyrov, who faces charges of human rights violations including torture and forced disappearances, has overseen the reconstruction of Grozny following devastation from civil war in the 1990s. Giant portraits of him adorn many buildings, alongside those of his father. He categorically denies the rights charges and blames the allegations on Chechnya's "enemies." He claims his rule has brought stability and prosperity to the oil-rich region.
My neat and friendly two-story hotel passed for Grozny's version of a boutique hotel. But even in the hotel, language barriers sometimes created embarrassing moments.
I mistook the hotel's owner, a slender man in his 40s, for a taxi driver when he offered to drive me to a money changer. As I quizzed him about the motive behind his offer, the exchange was cut short by a hotel employee in long dress and headscarf who put her mobile phone in front of my face. "He is the owner," read the words on the screen. To set me straight, she'd used Google Translate, the magic app that Russians have been using to communicate with thousands of non-Russian speakers descending on their country for the monthlong World Cup.
Language was also a hurdle at the hotel restaurant. One day I drew a chicken on my notebook to make my order. When I asked the waitress for milk for my coffee, I said "moo" and made cow-milking gestures. She found it so hilarious that I heard her back in kitchen, saying "moooooooo" and laughing as she shared the story with the cook.
One morning as I took a short walk around the hotel neighborhood, I stumbled on a busy outdoor market, a mix of stores and street stands selling produce, poultry and meat. Outside a butcher's store sat a mound of cattle heads, bloodied, flies buzzing about. Eid al-Fitr, the Muslim feast that marks the end of the fasting month of Ramadan, was a few days away and shoppers were stocking up, with meat, the centerpiece of any good Eid meal.
I noticed several men, some with families, carrying firearms in the market. I asked my driver later and he said they were likely not policemen, adding, "Chechen people like firearms. They love to fight and wage jihad (holy struggle) in the name of God."
Hundreds, maybe thousands, of Chechen jihadists have over the years joined the militants of al-Qaida and its successor, the Islamic State group, in Syria, Iraq and Libya. Their Arab peers also joined them in their ill-fated rebellion against Russian rule in the 1990s. Militant groups maintain a foothold in Chechnya to this day, occasionally staging attacks.
Despite my fascination with Grozny, other Russian cities impressed me too. I'll never forget St. Petersburg's summer "white nights," with 19 hours of daylight, along with the Neva river's beautiful bridges and the architecture. Moscow impressed me with its wide boulevards, beautiful river and orderliness. But Moscow also has an edge. One waitress seemed angry with me for not understanding Russian. And when I asked a waiter at my Moscow hotel for milk, he screamed, "Wait a minute!"
It was a stark contrast to my reception in Grozny, where I'd been treated like a treasured guest.