Munich rail stations reopen after terror alert prompts evacuations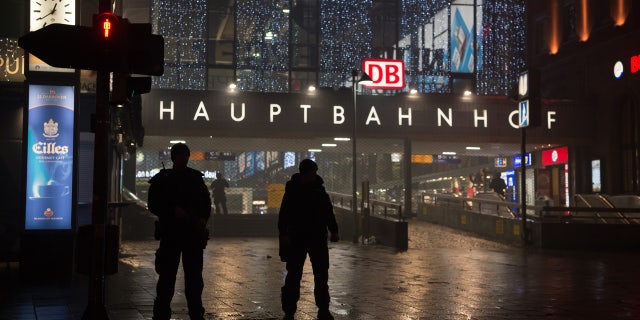 Police in the German city of Munich reopened two train stations early Friday as authorities continued to investigate an alleged New Year's Eve terror plot by ISIS suicide bombers.
Munich police president Hubertus Andrae said German authorities had been tipped off by a foreign intelligence service that ISIS was planning attacks with five to seven suicide bombers, the German news agency dpa reported. Andrae said so far there hadn't been any arrests. Some local media outlets reported that the French intelligence service had alerted their German counterparts to the possible attack.
Bavarian state television reported that the suspected would-be bombers were seven Iraqi nationals who resided in Munich and are known to German authorities by name.
"I believe this decision was right because I think we cannot
take unnecessary risks when we are dealing with such concrete
threats, concrete locations, and a concrete time,'' Bavaria's Interior Minister Joachim Herrmann told reporters.
Authorities first alerted citizens to the "serious, imminent" threat approximately 80 minutes before midnight in the city of 1.3 million. A Facebook message from the Munich police said that according to "serious information, there will be an attack tonight."
Munich's main train station was evacuated, as was a second train station in the western Pasing neighborhood, and New Year's revelers were warned to stay away from large crowds. Dpa reported massive delays in the city's public transportation system after the closure of both stations.
Despite the threat, the city's New Year's Eve celebrations went on as usual, as thousands of people were on the streets at midnight to welcome 2016 with fireworks.
"It's just now 2016 and people are celebrating the New Year like nobody seems to know about the terrorist warning," Torben Ostermann, a German journalist in Munich, told Sky News. "There is nobody in the main station at the moment, but the atmosphere in Munich is like a normal New Year. It's a bit weird though that we have a terrorist warning and people are firing off their fireworks."
Elsewhere in Germany, a firework display in Berlin went ahead as planned. Police in the capital searched revelers who wanted to ring in the New Year at the Bradenburg Gate and prevented people with large bags from entering the area, according to DW.com.
Cities across Europe have been on edge since a November terror attack in Paris killed 130 people.
A few days after the Paris attack, a soccer stadium in Hannover in central Germany was evacuated after a terror threat against a friendly match between Germany and the Netherlands. The authorities never reported any findings of explosives or concrete attack plans.
The Associated Press contributed to this report.