49 killed and dozens, including young children, injured in New Zealand mass shootings targeting mosques
Three people are in custody -- one of whom was charged with murder -- after at least one heavily-armed shooter mowed down Muslim worshippers at Friday prayer, massacring 49 people in two New Zealand mosques while broadcasting a horrific live stream of the terror attack.
WARNING: THIS ARTICLE CONTAINS GRAPHIC IMAGES
A 28-year-old Australian-born citizen was in custody after claiming responsibility for the attacks in Christchurch and allegedly posting a white nationalist manifesto immediately before the murder spree. The man, who was not identified, was described by Australian Prime Minister Scott Morrison as "an extremist, right-wing, violent terrorist" and he is expected to appear in court on Saturday. He and three others who were detained – one of which who was later determined not to be tied to the attacks – were not on any watch lists, and one was a woman, investigators said.
"These are people who I would describe as having extremist views, that have absolutely no place in New Zealand and in fact have no place in the world," Prime Minister Jacinda Ardern said following the massacre.
"This is one of New Zealand's darkest days," News.com.au quoted her as saying, adding that the killings "happened in a place where people should've been expressing their religious freedom, where they should've been safe."
CHRISTCHURCH RESIDENT RECALLS AIDING GUNSHOT VICTIM WHO FLED FROM MASS SHOOTING
In addition to the dead, health officials said 48 people are currently being treated at Christchurch Hospital for gunshot wounds. Officials say the patients range from young children to adults and the injuries range from minor to critical. A dozen operating theaters are being used there and some patients will need multiple surgeries, while about 200 family members were at the hospital early Saturday awaiting news about their loved ones.
Officials said 41 people were killed at the Masjid Al Noor mosque in central Christchurch and seven were slain inside the Linwood Masjid mosque, about three miles away from Masjid Al Noor. Another person died at a local hospital.
Witness Len Peneha, who lives next door to the Masjid Al Noor mosque, told the Associated Press that he saw a man dressed in black enter the building and then heard dozens of shots, followed by people running from the mosque in terror.
"I saw dead people everywhere. There were three in the hallway, at the door leading into the mosque, and people inside the mosque," he said. "I don't understand how anyone could do this to these people, to anyone. It's ridiculous."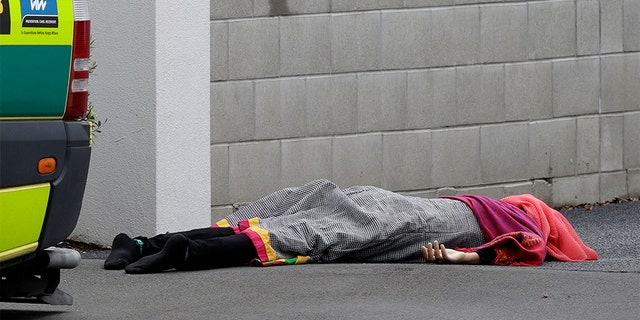 One survivor said he hid under a bench during the gunfire and prayed the shooter would run out of ammunition.
"I was just praying to God and hoping our God, please, let this guy stop" Mahmood Nazeer told TVNZ, according to Reuters. "The firing went on and on. One person with us had a bullet in her arm. When the firing stopped, I looked over the fence, there was one guy, changing his gun."
Peneha said the gunman was white and was wearing a helmet with some kind of device on top, possibly the camera used to film the assault, giving him a military-type appearance. One witness cited in a report by News.com.au said the shooter was silent while carrying out the attack.
AOC DRAWS IRE RIPPING 'YOUR THOUGHTS AND PRAYERS' AFTER CHRISTCHURCH MOSQUE SHOOTINGS
The video that was apparently live-streamed by the shooter shows the massacre in horrifying detail. The gunman spends more than two minutes inside the mosque spraying terrified worshippers with bullets, sometimes re-firing at people he has already cut down.
At one point, he exits the mosque to re-arm before going back inside to shoot more people. Eventually, the man flees as emergency vehicles can be heard approaching in the background.
"There wasn't even time to aim, there was so many targets," the man says, chillingly, as he drives away. Children's screams can be heard in the distance during the attack.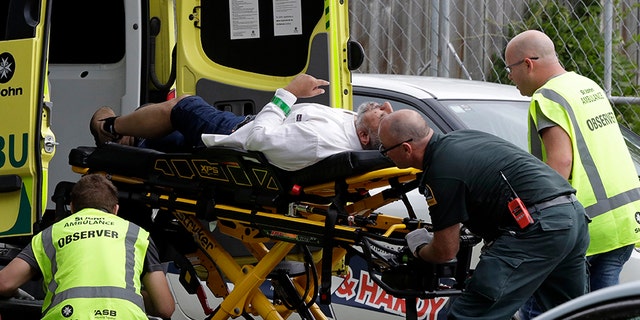 One witness told TVNZ he saw three women shot and bleeding outside the mosque and another said a suspect fired more than 50 shots, Stuff.co.NZ reported.
"He had a big gun and a lot of bullets and he came through and started shooting, like, everyone in the mosque, like, everywhere, and they have to smash the door and the glass from the window and from the small door to try and get out," he said.
The video cut off after the man got back into his car, and now police are trying to block it from being circulated around the Internet.
In the other attack, witness Mark Nichols told the New Zealand Herald that he heard about five gunshots and that a Friday prayer-goer returned fire with a rifle or shotgun.
Nichols also said he saw two injured people being carried out on stretchers past his automotive shop and that both people appeared to be alive.
Police Commissioner Mike Bush said Friday night that a man had been charged with murder, but did not say whether police believed the same shooter was responsible for both attacks. The roles of the two others currently in custody are still being determined, and Ardern said there is no reason to believe there are any more suspects.
However, Bush warned mosques nationwide to "close your doors until you hear from us again."
He also said police had found two improvised explosive devices in one car following the shooting, one of which they have disabled and another they are in the process of doing so.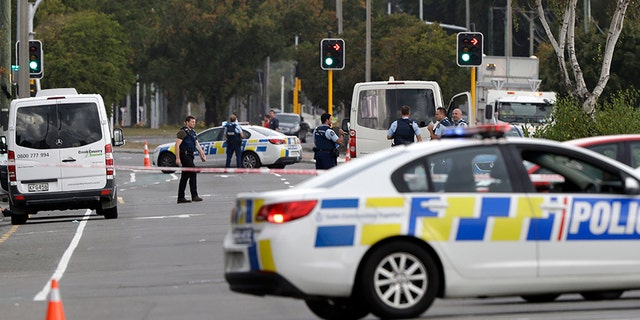 It wasn't clear if the vehicle was the same one the suspect was seen driving in the live-streamed video of the attacks. Details of the arrests also were not available.
As of early Saturday, New Zealand police were evacuating homes around a "location of interest" in Dunedin, 240 miles south of Christchurch. In a statement, they did not disclose what ties -- if any -- the location has to the shootings.
In the gunman's rambling manifesto, he appears to interview himself and claims he came to New Zealand only to plan and train for the attack. He said he was not a member of any organization, but had donated to and interacted with many nationalist groups, though he acted alone and no group ordered the attack.
He said the mosques in Christchurch and Linwood would be the targets, as would a third mosque in the town of Ashburton if he could make it there.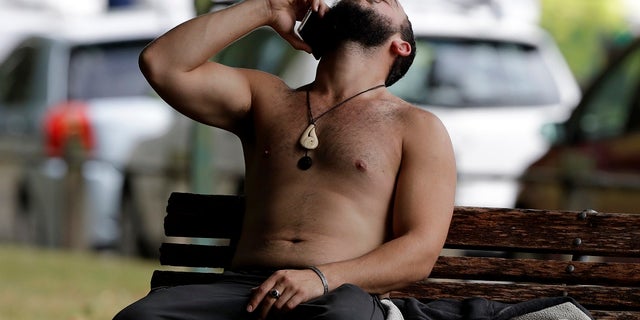 He said he chose New Zealand because of its location, to show that even the most remote parts of the world were not free of "mass immigration."
Ardern alluded at a news conference to anti-immigrant sentiment as the possible motive, saying that while many people affected by the shootings may be migrants or refugees, "they have chosen to make New Zealand their home, and it is their home. They are us."
Last year, Ardern announced the country would boost its annual refugee quota from 1,000 to 1,500 starting in 2020. Ardern, whose party campaigned on the promise of raising the intake of refugees, called the planned increase "the right thing to do."
The identities of the deceased have not yet been revealed.
Retno Marsudi, Indonesia's foreign minister, said six Indonesians were inside the Masjid al Noor mosque when the shooting occurred and three escaped.
"We are looking for three other Indonesian citizens," Marsudi said.
Bangladesh's honorary consul in Auckland noted three Bangladeshis were killed in the attacks and at least four others were injured.
Members of the Bangladesh cricket team also said they narrowly escaped the shooting at the Masjid al Noor mosque. Players and coaching staff were reportedly getting off a bus when the shooting broke out. Tamim Iqbal, a batsman on the team, tweeted: "Entire team got saved from active shooters. Frightening experience and please keep us in your prayers."
Mario Villavarayen, a strength and conditioning coach with the team, told New Zealand media the players did not see the suspect but heard shots. He said the group was shaken but unhurt.
CLICK HERE TO GET THE FOX NEWS APP
"I spoke to one of them shortly after," Vllavarayen said. They didn't see anything but heard gunshots. They were at the ground and just started running. The coaching staff were all at the hotel."
The team reportedly fled the scene on foot to Hagley Oval where it was scheduled to play New Zealand on Saturday. That match has been canceled.
Mass shootings in New Zealand are rare. Before Friday's attack, the deadliest shooting in modern history there occurred in the small town of Aramoana in 1990, when gunman David Gray shot and killed 13 people following a dispute with a neighbor.
Fox News' Louis Casiano, Samuel Chamberlain and the Associated Press contributed to this report.