Muhammad Ali, Muslim Figures Call on Iran to Release Jailed Hikers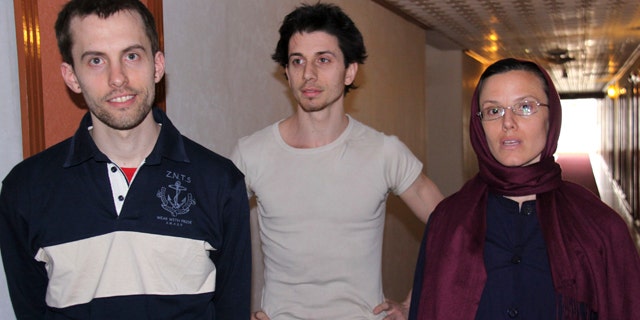 Boxing legend Muhammad Ali and other prominent Muslim figures appealed Tuesday to Iran's Supreme Leader, Ayatollah Sayyid Ali Khamenei, to release the remaining two American hikers who have been jailed since July 2009.
The appeal came during a news conference in Washington, D.C., with Muslim leaders, family members of Shane Bauer and Josh Fattal, and released hiker Sarah Shourd.
"As the American Muslim community, we appeal to the Supreme Leader, Ayatollah Khamenei, to release Shane and Josh on the basis of compassion and kindness following the example of Prophet Muhammad, who God sent as mercy to mankind. Our hope is that the leadership in Iran will hear our call and reunite Shane and Josh with their families," Imam Mohamed Magid, president of the Islamic Society of North America, said during the press conference.
This comes as Iran scoffed at the U.S. and allies using the term hikers to describe three Americans charged with espionage, calling it a "joke" and giving no hint that prosecutors would scale back the accusations.
The comments carried on state TV suggest Iran will not ease its claims against the Americans despite failing to hold a court session earlier this month for unexplained reasons.
The trio was detained in July 2009 along the Iran-Iraq border. Bauer and Fattal remain in custody. Bauer's fiancee, Sarah Shourd, was released last year on $500,000 bail and has refused to return to Iran for trial. She is being prosecuted in absentia.
They deny the spy charges and claim they were only hiking in a scenic area of northern Iraq near the Iranian frontier.
"They are not hikers and insistence by the U.S. officials and their friends, who try to identify them as hikers, is not acceptable," said the TV report, quoting Foreign Ministry spokesman Ramin Mehmanparast.
He added: "This is a joke interpretation of the word hiker."
Mehmanparast also reiterated Iran's claim that Iranians were in U.S. prisons without access to family and diplomatic aid. Iran and the U.S. have no official relations, but third countries handle their diplomatic affairs.
The espionage trial had been scheduled to resume May 11, but Bauer and Fattal weren't brought to court and the session was called off. Iranian officials have offered no explanation.
On Monday, the families of the two men said they made phone calls to their families. It was their first phone call to their families since Nov. 27.
The Associated Press contributed to this report.