Mother Of American Jailed In Venezuela Says He Was Visiting Family, Is Not A U.S. Agent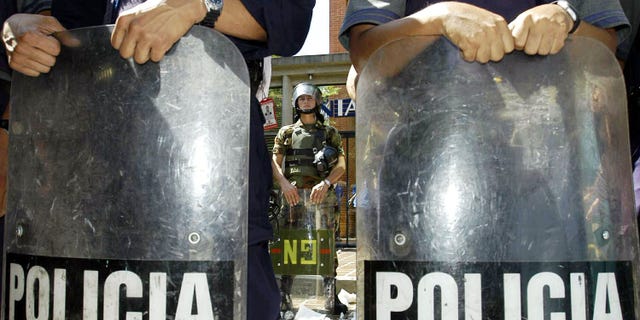 The mother of a 32-year-old American citizen arrested in Venezuela over the weekend denied her son is a U.S. or an anti-government agent with a criminal record, as authorities claim. Todd Michael Leininger, who barely speaks Spanish, was arrested Saturday with his Venezuelan wife in San Cristobal, the capital city of the southwestern state of Tachira.
Police said they found three rifles, including one with a telescopic sight and silencer, two pistols, ammunition and eight military-style uniforms at Leininger's residence, said Tachira Gov. Jose Vielma, who showed reporters the uniforms and firearms.
A document identifying Leininger as a captain in a U.S. police or military unit was also found by investigators, the governor said.
Citing the rule by the court in Tachira, the Attorney General's Office said Wednesday Leininger will be held under preventive arrest on attempted murder, arms and criminal conspiracy charges.
The American was arrested after relatives of Jorge Santos Sandoval, a neighbor he allegedly threatened to shoot for refusing to turn down his stereo, called police, Vielma said.
The Miami Herald reports that Leininger was born in Miami but has been living in Indiana for the last 20 years.
His mother, Barbara Leininger, told the Herald that her son traveled to San Cristóbal with his Venezuelan wife last week to visit his sister-in-law and provide her with household goods such as toilet paper.
According to the mother, who spoke briefly speak with her son after his arrest, he admits shooting someone but said that it had been in self-defense.
She also said, according to the Herald, that her son has Tourette syndrome and obsessive-compulsive disorder and requires anti-anxiety medication.
EFE contributed to this report.
Follow us on twitter.com/foxnewslatino
Like us at facebook.com/foxnewslatino